Football-playing robot dinosaur signals rise of Artificial Intelligence toys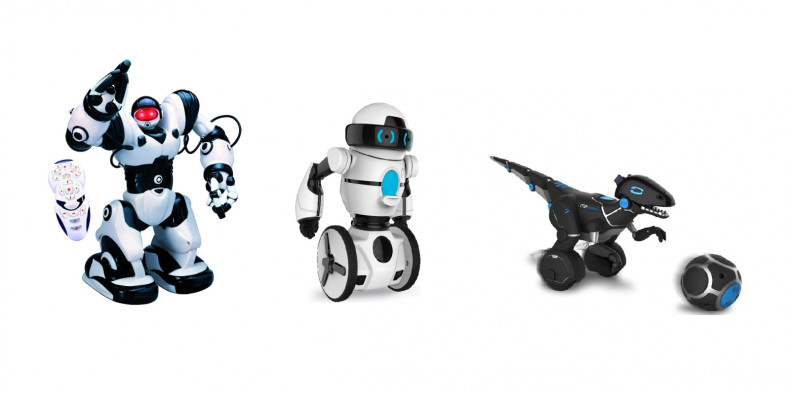 Stephen Hawking believes it could "spell the end of the human race". Elon Musk has said developing it is "like summoning the demon". But for Michael Yanofsky, from hi-tech toy firm WowWee, artificial intelligence (AI) is one of the best things to ever happen to children's entertainment.
The company's latest offerings come in the form of the football playing robot dinosaur MiPosaur and the robotic enhanced vehicle Rev, both of which incorporate AI elements to enhance play time and bring the computer game experience to the real world.
"Connected toys, robotics and AI is really where the industry is heading I feel," Yanofsky told IBTimes UK at the annual Toy Fair, which is on in London this week. "A lot of retailers are actually expanding those categories. For us the AI can enable us to do so many things.
"Rev's technology, for example, is very much modeled on games that you'd find on XBox. If you're all by yourself you can take one of these cars, set it to computer mode and it can actually follow the other car and act as a real computer as you would see on any video game."
Pet robots and self-tidying toys
WowWee's two new gadgets are the latest additions to the growing trend of AI toys, which has even reached the usually passive realm of teddy bears.
In 2013, UK-based Supertoy Robotics developed a cuddly toy that can listen, learn and interact with its surroundings while evolving its capabilities through an app described as "Siri on steroids".
"Supertoy uses artificial intelligence," the product's Kickstarter page states. "This allows our software to react to what you say - and to further recreate human like speech."
Like Supertoy, the multi-talented MiPosaur offers a much more personal experience for the user and playing with it can almost feel like interacting with a pet. The £100 robot, available later this year in the UK, comes with "evolving intelligence and personality" that allows it to alter its mood depending on the interaction.
Environment and motion sensors enable MiPosaur to interact with its environment, while something called GestureSense technology allows you to control it with a swipe of your hand.
An accompanying ball featuring BeaconSense technology allows the robo-dinosaur to chase, play with and guard it.
"This AI technology called BeaconSense is an infrared technology that will actually map your house," Yanofsky said.
"So in the future, we can get beacons plugged into the walls and have our products actually put themselves away, back into the closet."