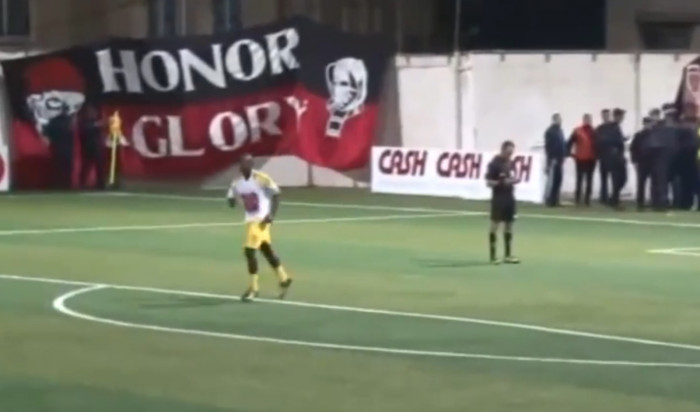 Cameroon international Albert Ebossé has died after being struck on the head by a missile thrown from the stands at the end of a match in Algeria.
Ebossé, 24, playing for JS Kabylie, had scored his side's only goal in the game which they lost 2-1 at home to rivals USM Alger in Tizi Ouzou in the north of the country. YouTube footage shows the striker being stretchered off the pitch with his head in bandages.
The forward had played for Cameroon sides Unisport Bafang, Douala AC and Coton Sport FC. In 2012 Ebossé transferred to Malaysian side Perak FA before returning to Africa to join Algerian side JS Kabylie in July 2013. He had six Cameroon caps, most of them for the B side.
Both sides paid tribute to Ebossé following the tragedy. On their website USM Alger said: "This terrible news is saddening for football in our nation and in Cameroon and arrives like a bombshell. In these painful circumstances, USM Alger and its members send their deepest condolences to the family of the deceased and to JS Kabylie. May Albert Ebossé rest in peace."
Ebossé's team JS Kabylie also made a statement online. "The Ministry of Interior and Local Government, speaking through minister Tayeb Belaiz, has given an instruction to open an investigation into the circumstances surrounding the death of Albert Ebossé. The JSK player succumbed to a head injury after being hit in the head at the end of the meeting with USM Alger."
Violence involving Algerian fans is nothing new. In 2012 a policeman was killed at a big match, and seats have often been burned. One of the worst occurrences followed Algeria's qualifier against Egypt in 2009.
Egypt recalled its ambassador to Algeria following attacks on Egyptian fans in Khartoum, Sudan. There was also rioting in French cities with substantial Algerian populations.
Egypt has also had serious problems with football violence including a riot at Port Said in 2012 when 74 fans died. Following the tragedy 21 people were sentenced to death.