A former US Navy admiral, who was at the centre of a massive bribery scandal, was sentenced to 18 months in jail on Wednesday (17 May), becoming the first ever active-duty admiral to be convicted of a federal crime.
Former US Navy Rear Admiral Robert Gilbeau, 56, of San Diego was sentenced after he admitted that he lied to investigators that he had never received any bribe from a wealthy businessman in Malaysia.
The charges relate to Gilbeau receiving gifts, including lavish trips and prostitutes, from Leonard Francis, the owner of a Singapore-based defence contractor.
Francis, who was also known by the nickname 'Fat Leonard', admitted to bribing Gilbeau and eight other navy officers with more than $500,000 worth gifts and cash so that they would help him with classified information to help his company.
The massive bribery scandal is reported to have plagued the US military for three years.
The rise and fall of Gilbeau
Over a span of two decades, Gilbeau rose through the ranks to become a US Navy admiral. He earned a number of honours for his service, AP reported. During that period, he also reportedly partied across Southeast Asia with Francis, with the latter sponsoring lavish dinners, drinks at karaoke bars and prostitutes.
Prosecutors said Francis' company used to supply food and fuel to ships and accused him of overcharging the Navy through his company Glenn Defence Marine Asia by more than $34m.
"This is the first time our nation will incarcerate a Navy admiral for a federal crime committed during the course of his official duty, and it is truly a sombre day," US Attorney Alana Robinson said. "When tempted by parties and prostitutes, one of our most respected leaders chose karaoke over character."
Gilbeau was subsequently demoted to captain.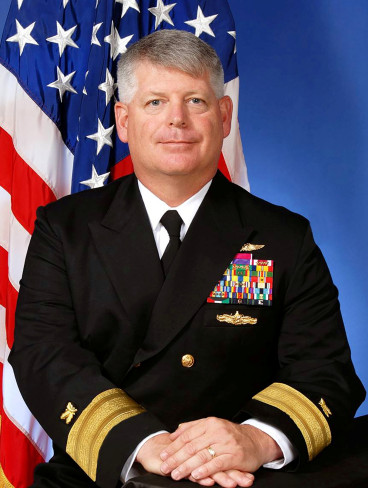 Gilbeau-Francis business relationship
Gilbeau first met Francis when he was in his mid-30s, and their business relationship dated back to 1997. They met in Bali, Indonesia, during Gilbeau's port visit and the businessman started bribing Gilbeau with gifts and cash since then, Reuters noted.
In exchange for the lavish gifts showered on him, Gilbeau signed off on contracts for services such as removing waste from US aircraft carriers at an exorbitantly high rate, prosecutors said.
In September 2013, Francis was arrested on bribery and fraud charges. He faces a jail term of up to 25 years after he pleaded guilty earlier in January.
Gilbeau's attorney, David Benowitz, said while his client admitted to lying, he denied taking cash or inflating any invoice.
"We respectfully disagree with the court's sentencing decision, given Captain Gilbeau's otherwise stellar 37 years of service to his country, during which he was awarded a Bronze Star and Purple Heart," Benowitz told Reuters.
However, US District Judge Janis L Sammartino said Gilbeau carried out "a systematic destruction of records" by deleting documents and data files to conceal his dealing with Francis.
"You violated the law," she said. "You dishonored your shipmates, the Navy and the United States of America."
Besides Gilbeau, nine other navy officials have pleaded guilty to the fraud and bribery charges, while 10 other cases are pending.
Five executives from Francis' company have also pleaded guilty.