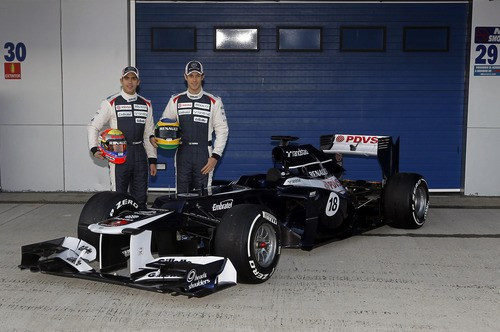 Entering its 35th year in Formula One, Williams has revealed its 2012 car, the FW34, which will be driven by Bruno Senna and Pastor Maldonado.
The FW34 was unveiled in the pitlane of Spain's Jerez circuit just before testing for the 2012 season began on 7 February, marking the reunion of Williams with Renault after the team switched engine suppliers from Cosworth during the winter break.
After a torrid 2011 season - the worst in its history - team principal Frank Williams was optimistic for the new season. "One could say that looking at the Williams F1 Team today we are off to a truly fresh start. We have a new car, new driver line-up, new engine and new senior personnel. We also have a number of new partners who have joined the team in the past few months."
Over the winter break Williams has seen a drastic change in staff, with technical director Sam Michael moving to McLaren and co-founder Patrick Head stepping away from F1. Mark Gillan new leads the technical division of Williams.
Rubans Barrichello has been replaced by Bruno Senna, which marks a reunion of the Senna name and Williams. It was 18 years ago that his uncle, Ayrton, signed for Williams just months before his death at Imola in April 1994.
Senna said at the FW34 announcement: "I'm very excited to be back in action with the Williams F1 Team in Jerez. This is my ever first pre-season testing programme since I started in Formula One two years ago.
"I'm really motivated and looking forward to working hard and with everyone in the team. I hope we have a successful month testing and developing the car so we arrive in Melbourne as well prepared as possible."
The FW34 features a stepped nose, which is a design choice taken by every team apart from McLaren, which appears to have got around the new regulation which prevents teams from using a nose higher than 65cm.
Maldonado said: ""I'm happy to be racing again with Williams. I have faith in the FW34 and the Renault engine and so have high hopes for the races ahead. It will be very important that we develop the car from the start of the season to the end. Now that I have a year's experience, I can help in that area much more now."
Testing for the 2012 season has begun at Jerez. The first race is at Melbourne Park, Australia, on 18 March.