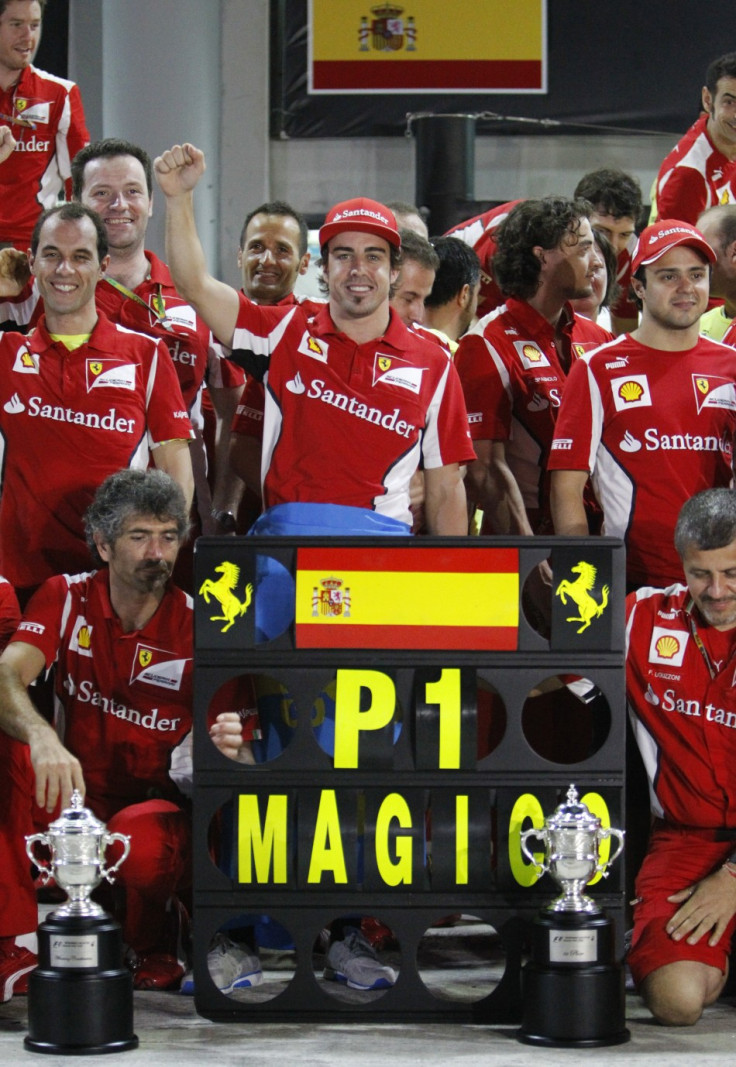 After the spray of torrid downpours that have dogged Silverstone and the 2012 Formula 1 British Grand Prix finally went away, Saturday's qualifying session not only settled into some sort of rhythm but wound up producing one of the most exciting sessions in recent times and certainly this season.
The converted World War II airfield in Northamptonshire, near a village of the same name, has been fed a deluge of rain since Wednesday night, when the track received 35mm of rain in less than 40 minutes. That was followed by a steady 90 minute shower that flooded the track during the first Free Practice session and poor drainage conditions left the track equally sodden for the second session of the day. Therefore, when the UK Met Office predicted a 60 percent chance of rain during Saturday's qualifying session, it was fairly certain we would have a very wet qualifying session... and we did.
Nevertheless, inclement weather aside, read on to find out who is in pole and who is not... and how your favourite drivers and teams fared, as well as information on where to watch the 2012 Formula 1 British Grand Prix live!
Saturday Qualifying
The 2012 season has been nothing, so far, if not unpredictable. It was already in the record books before the weekend of the European Grand Prix (around the streets of the Spanish city of Valencia) for having offered up seven different race winners in the seven opening races of the season. Ferrari's Fernando Alonso broke that streak with a tactically superb drive and his second win of the season, despite the Red Bull of Sebastian Vettel clearly being the faster car. In fact, the Red Bull team has set the benchmark for performance for a couple of years now and was expected to do much the same this season.
However, we are having a hugely entertaining season and Ferrari's and Alonso's mid-season, mini (so far) revival is gathering pace. The Maranello outfit followed up with their Valencia win with another display of race management and on-the-limit driving from the Spaniard to walk away with pole position for Sunday's race. The session was interrupted by rain so heavy that with a little over six minutes still left in Q2, race director Charlie Whiting red-flagged the session. Qualifying was eventually re-started but what was scheduled to be an hour long afternoon's work for the drivers took more than two and a half to complete!
Alonso clocked the fastest time of Q3 - 1:51.746 - a mere 0.047s ahead of the Red Bull of Mark Webber - to record his first pole of 2012. An equally resurgent Michael Schumacher took third for Mercedes, with 1:52.020 more than enough to edge out Webber's team mate and defending world champion Sebastian Vettel (1:52.199) and the second Ferrari of Felipe Massa (1:53.065).
Meanwhile both McLarens, despite announcing themselves optimistic of a good result this weekend, thanks to car upgrades, had qualifying sessions they'd sooner forget. Lewis Hamilton, the 2008 world champion, and Jenson Button, the 2009 champion, managed eighth (1:53.543) and a horrific 18th (eliminated in Q1) respectively. However, as a result of penalties to Williams' Kamui Kobayashi (qualified 12th but dropped to 17th) and Toro Rosso's Jean-Eric Vergne (qualified 16th but dropped to 23rd), Button will start from 16th.
Much was also expected of the Lotuses of Kimi Raikkonen and Romain Grosjean, particularly after the latter topped the first Free Practice session and came third in the final one, while Raikkonen improved steadily through the weekend to finish only 0.287s off Alonso's pace in the same session. Unfortunately it didn't quite live up to expectations. Raikkonen finished sixth (1:53.290) while Grosjean spun off at Vale in the closing seconds of Q2. Fortunately for the Frenchman his standing time was fast enough to ensure he starts in tenth. Williams' Pastor Maldonado and Force India's Paul di Resta are the other drivers in the top ten.
For a complete time sheet for Free Practice 1, click here.
For a complete time sheet for Free Practice 2, click here.
For a complete time sheet for Free Practice 3, click here.
For a complete time sheet for Qualifying, click here.
Sunday Race Day Build-up
Sunday's race will be a wet one. It will rain... and it will likely rain hard. We really don't need a weather report to suggest that possibility. Nevertheless, the UK Met Office's forecast for 8 July sees a 40 percent chance of rainfall from 10 am BST to well past 4 pm BST and the race falls absolutely in the middle of that window. So, while it may not rain all through the 52 laps of 5.891km circuit, the Pirelli intermediate and wet weather tyres will almost certainly be called into action.
Whatever little the teams can decide on, in terms of race strategy, will probably be left undecided until the last possible minute. If, for example, the race starts as a wet race or even with a minor shower, pit stop strategies will see rapid revisions as every team, driver and principal, from Ferrari to Marussia, tries to second guess the weather.
In addition, much of the talk in the build-up to earlier races centered on the performance and unpredictability of Pirelli's dry weather tyres and it is no different this time around. The rain did afford drivers a chance to try out the French manufacturer's intermediate and wet rubbers and the feedback was mixed. Mercedes' Schumacher was pleased with the way his car handled on both sets and team principal Ross Brawn said he was happy with the balance of the car and its handling of the tyres. However, it wasn't all good news.
Hamilton, who will start from eighth, admitted to struggling with the intermediates, complaining he couldn't get enough heat into them; the heating problem is something Pirelli have had to deal with on different occasions this year, although, to be fair, the temperatures at Silverstone certainly did not help). In any case, Hamilton and Martin Whitmarsh, McLaren team principal, both made the point that their car seemed to work better on full wet weather tyres and would therefore prefer a wet race. The fact of the performance gap between the two sets was echoed by several drivers up and down the grid.
The general consensus, however, seems to be that any tyre choice will be a gamble and changing weather conditions could play havoc with the grid and racing order, at any time. Certainly the presence of drivers like Button, Mercedes' Nico Rosberg and Sauber's Sergio Perez in the bottom half of the grid should make for exciting viewing, as they try to push through to point scoring positions.
The weather conditions will not make things any easier for drivers at the top of the grid either, with pole sitter Alonso admitting that qualifying results, in a race like this, may not mean much.
No secret. I think it's tricky conditions for everyone. Yeah, happy with pole position after nearly two years, for Ferrari that's a long time and we'll see. Tomorrow is the race and with these weather conditions the qualifying becomes one of the less important qualifyings of the year because everything will mix up after a few laps tomorrow maybe, but for visibility and things like that it's always better to start at the front, so very happy," the Spaniard was quoted as saying in the post-qualifying interview.
The Weather
As explained earlier, the UK Met Office predicts a 40 percent chance of rain (with humidity ranging from 87 percent to 75 percent) between 10 am BST and even up to 7 pm BST. There are regional warnings for rain. This means it is more than likely, almost certain, in fact, to rain sometime during the race. Fortunately for the teams, spectators and even drivers, visibility is likely to be good and winds will be more than manageable - from 10mph to a little over 6mph in the period of the race. The direction of the wind will be a general north to north-west compass point, meaning there could be some unwanted sideways movement for drivers as they slice their way through the Becketts complex of corners. Air temperature is likely to be between 15 degrees Celsius and 18 degrees Celsius, although the weather experts advise temperatures could go as low as 13 or 14 degrees Celsius.
Where to Watch Live
You can follow all the action from Silverstone, live, from 12.05 pm BST to 12.55 pm BST on BBC One and BBC One HD and from 12.55 pm BST to 3.30 pm BST on BBC Two and BBC HD. You can also catch the action on Sky Sport F1 HD, from 11 am BST to 4.15 pm BST. There will be live text and audio commentary available at the BBC Sport Web site and BBC Radio 5 live. You can also follow the race live and get real-time information and feeds at the Formula One Web site.