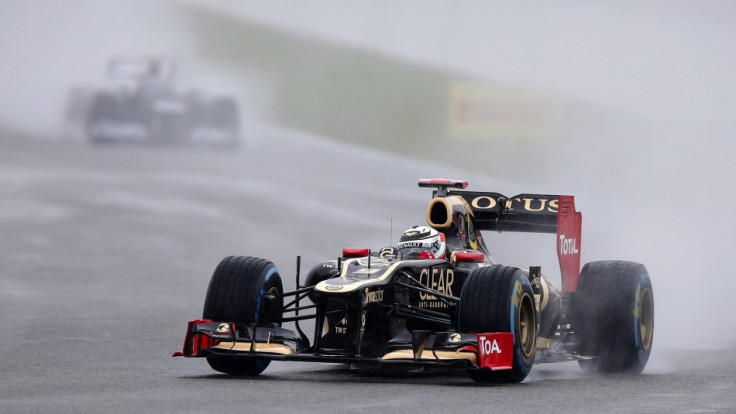 The traditionally inclement British weather threatens to play spoilsport at Silverstone, as downpours make a mockery of the track and safety conditions for the drives, teams and spectators, ahead of Saturday's final Free Practice session and the all-important qualifying for the 2012 Formula 1 British Grand Prix. Although both of Friday's Free Practice sessions went ahead as scheduled, the amount of standing water on the track and the resultant slippery conditions meant several drivers, including Ferrari's Fernando Alonso, had rather dangerous accidents and McLaren's Jenson Button confessed he was "scared" of the track conditions, the Daily Mail reported.
"I can't see us being allowed to race in these conditions," the McLaren driver said, adding, "There's a lot of standing water. It was quite scary out there. On your own it's OK but in a pack it's very difficult." The 2009 World Champion did add that he expected the qualifying session to go ahead.
Meanwhile, the BBC reports that as many as 20,000 fans have been asked to stay away from Saturday's qualifying session since the rains have left at least 50 percent of the parking facilities unusable. The organisers have confirmed they wish to have some time to clean up the facilities ahead of Sunday's race.
"If you have a public car parking ticket we are strongly advising you not to come tomorrow. The situation is that we want to try to recover things for Sunday and that's the most important thing for us at the moment," the circuit's managing director, Richard Phillips explained, adding that the request was only for fans with parking permits within the circuit. The BBC report states that fans planning to use external car parks, camping nearby or arriving on foot should be able to access the track normally. "We could be in a situation where you will be in queues of traffic and don't actually get into the circuit. That's the harsh reality of where we are. It's almost made me cry," Phillips added.
A Silverstone spokesperson confirmed the circuit received, according to measurements from a nearby aerodrome, 35mm of rain in 40 minutes on Wednesday night and that was followed by a 90 minute shower throughout the first Free Practice session. Incidentally, weather data indicates last month was the wettest June since records were first kept in 1910. A release from the UK Met Office said there was more than double the average amount of rainfall.
In worse news for the race organisers and Formula 1 in general, the Met Office has issued regional warnings for rain and heavy showers through Saturday. There is a 60 percent possibility of precipitation at around 1 pm BST, which is when the qualifying session is scheduled to start. The race organisers are hoping for the best but in a realistic assessment of the situation admitted they could face severe problems if the weather did not change.
"There will be a problem. If we get more rain we have to be honest about it, it will be slow. We've loaded all the hardstanding car parks today but we have used some of the other car parks that aren't hardstanding that may well be in a bad state tomorrow. So again we are looking at all sorts of alternatives for tomorrow (Saturday)," a spokeswoman was quoted as saying in the Independent.
Free Practice 1
Despite the constant rain through the first Free Practice (FP1) session, Romain Grosjean managed to claim top spot at the end of the 90 minutes. The Lotus driver lapped in 1:56.552 to finish ahead of Toro Rosso's Daniel Ricciardo by 0.275s. Incidentally, both Lotus cars will sport new livery for the British Grand Prix - the team will run with branding for the forthcoming Christian Bale-starring Batman film - The Dark Knight Rises.
Back on track, an unconventional top two was followed by hometown combination of Lewis Hamilton in his McLaren-Mercedes. The former World Champion was quoted in an earlier IBTimes UK preview as hoping that upgrades to the MP4-27 would help play catch-up with Ferrari and Red Bull after a relatively disappointing time in the last race at Valencia... and they certainly did. Hamilton lapped in 1:57.174 and although he was 0.622s off Grosjean's pace, he did finish 0.490s ahead of the Sauber of Sergio Perez and, importantly, well ahead of championship contenders like Red Bull's Sebastian Vettel (11th; 1:59.414), Ferrari's Felipe Massa (5th; 1:58.119) and team mate Jenson Button (17th; 2:01.834). Alonso failed to set a time, while the Mercedes duo of Michael Schumacher and Nico Rosberg only managed eighth (1:58.493) and ninth (1:58.942) respectively. Grosjean's team mate, and a former Ferrari driver, Kimi Raikkonen could only manage 16th, although that was a comfortable 1.581s ahead of Button.
Hamilton, who was clearly delighted with his performances on Friday, was equally delighted, the rain notwithstanding, to be at Silverstone. He was mildly critical of the track, however, noting the lack of drainage facilities and cautioning other drivers of the possibility, if rain continues, of pools of standing water and the threat of aquaplaning.
"I had some fun out there today! I got to do a good few laps too, which was good, because I was concerned that the fans wouldn't get to see much action. There were so many of them out there today. I can't remember seeing so many people at a racetrack on a Friday before - it was incredible. British Formula One fans are the best in the world! There was a lot of standing water out there, and tons of aquaplaning. That's to be expected when there's heavy rain, of course, but I have to say that there doesn't seem to be that much drainage around the circuit. You're aquaplaning almost all the time, to be honest, so you need to be very in tune with your senses or you're very likely to lose control," the 2008 champion said.
For a full timesheet, click here.
Free Practice 2
If Hamilton was delighted with the way the first session went, he was set to be even happier after the flag fell for the end of the second Free Practice (FP2) session on Friday. The McLaren driver beat Grosjean's time from the morning session by about a couple of tenths of a second; he lapped in 1:56.345 and shaded the Williams of Kamui Kobayashi, which had remained on top for most of the 90 minutes, by 0.129s.
Behind the duo, Schumacher continued his strong practice runs (and reminded spectators and rivals of his speed in such conditions) with a late charge to third, in a time of 1:56.545. He was followed, yet again, by team mate Rosberg, who was was fourth with 1:56.567. Perez locked out the top five with a time of 1:57.493. Button improved dramatically from his first session time, clocking an impressive 1:57.948 in the second McLaren.
The big news of the day was the presence of Caterham's Heikki Kovalainen in seventh, on a time of 1:58.580, ahead of the Lotus of Raikkonen. Incidentally, Grosjean, session leader in the first run-out, opted to remain in the garage and conserve tyres. Fernando Alonso did manage a time in this session, coming in 10th fastest with a time of 1:59.015, while team mate Massa went backwards, badly, managing only 15th with 2:00.565, more than 2s off his morning pace.
At the end of the day's practice sessions, there was universal praise for the spectators, who sat through torrential downpours to cheer and support their teams and drivers.
"A very British 'summer' day here at Silverstone, and we must say a big thank you to the fans who have braved the unpleasant conditions to be here for their fantastic support today," Ross Brawn, the Mercedes team principal was quoted as saying by Formula1.com.
For a full timesheet, click here.
Weather Forecast for Qualifying
Information on the UK Met Office's Web site suggests rainfall, to some degree, is almost certain on Saturday. The only question is - will it stay away during the all-important qualifying hour? Well, as we explained earlier, the warnings do indicate a 60 percent possibility of precipitation (81 percent humidity) exactly when the qualifying session is scheduled to start - 1 pm BST. The good news, if we may call it that, is that visibility is expected to be good and no strong winds are being reported. There will be a general northerly wind of 11mph though.
Where to Watch Live
Unless you're prepared to risk the weather and the clogged motorways and poor parking that will unfortunately plague Silverstone this weekend, all to catch a glimpse of the McLarens or the Ferraris live, we suggest you stay at home and catch all the action live on television.
You can watch the qualifying session for the 2012 British Formula 1 Grand Prix from 12.10 pm BST to 2.30 pm BST on BBC Two. You can also follow the event, live, through text updates on the Live Timing section of the Formula 1 Web site.
Where to Watch Race Live
Check out a complete IBTimes UK preview of the 2012 Formula 1 British Grand Prix, with driver quotes, qualifying recap, race strategies, weather updates and information on where and how to follow the race live.