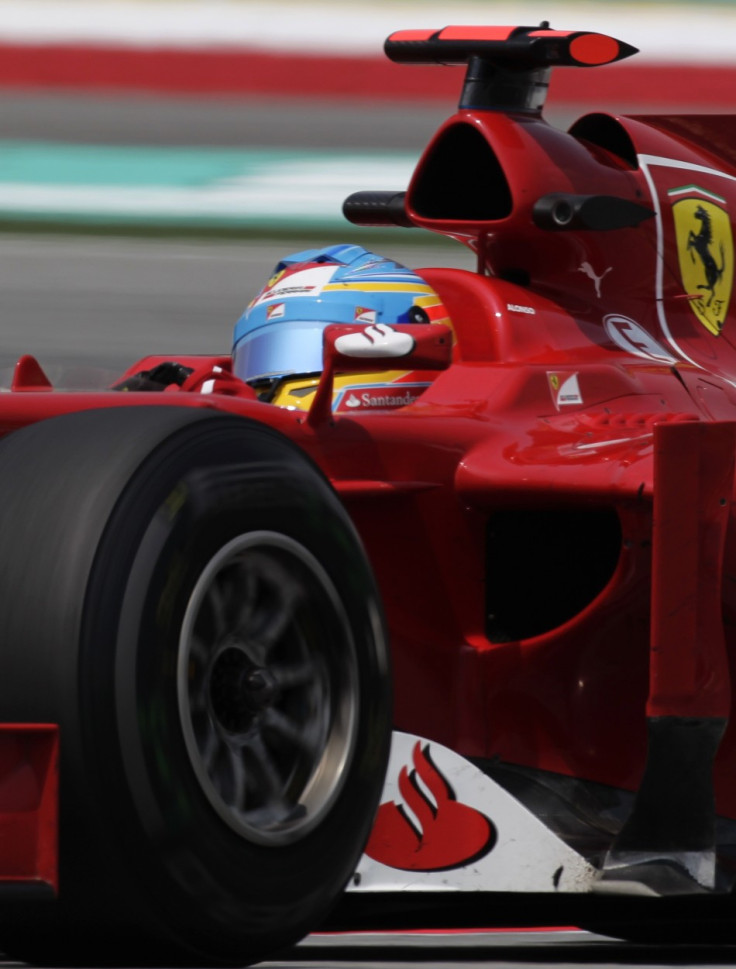 After all the fuss about Formula 1 chief Bernie Ecclestone's lavish plans for a London Grand Prix - on the streets of the historic city - the sport returns to the serious business of the 2012 Drivers' and Constructors' titles. The Formula 1 circus will stay in England, however, and visit the popular Silverstone motorsports track near the village of the same name. A converted World War II airfield, the track has become an emblem of all things British in the world of motorsports and McLaren's Lewis Hamilton and Jenson Button in particular will be itching to get their hands on the winner's trophy at their home race.
What Happened at Valencia
The previous round of the championship was held around the city streets of the southern Spanish town of Valencia and just as Spain was dominant in Sunday's Euro 2012 final, hometown boy Fernando Alonso drove an inspired race to claim his second win of the season and retake outright lead of the race for the world championship. More importantly, the win meant the Ferrari driver broke the trend of a different driver winning each race of the season so far - before Valencia, a record seven different drivers won the seven opening races!
In terms of the championship, defending champion Sebastian Vettel of Red Bull came a cropper, registering his first non-finish of the year. The other results were a superb second place for former Ferrari driver Kimi Raikkonen and a Lotus team who continue to impress (his team mate, Romain Grosjean qualified fourth on the grid but failed to finish after mechanical problems intervened), while another former Ferrari man - seven time world champion Michael Schumacher - brought his Mercedes home in third - his first podium finish since his return from retirement in 2010.
Drivers' Title (Top 5)

Fernando Alonso (Ferrari) - 111
Mark Webber (Red Bull) - 91
Lewis Hamilton (McLaren) - 88
Sebastian Vettel (Red Bull) - 85
Nico Rosberg (Mercedes) - 75

Constructors' Title (Top 5)

Red Bull - 176
McLaren-Mercedes - 137
Lotus-Renault - 126
Ferrari - 122
Mercedes - 92
2012 British Grand Prix
Much of the talk, as explained above, in the lead up to the Silverstone race has been about the London Grand Prix and, more recently, about growing unease in the McLaren camp. The former world champions, easily one of the most successful teams in the history of the sport, have had a number of technical, tactical and man management issues this season, with both drivers - Button and Hamilton - publicly expressing frustration at missed opportunities in races and poor machinery. It all came to a boil before the Monte Carlo Grand Prix, where chief executive Martin Whitmarsh confessed to being disappointed with events. Since then, strong qualifying performances in Canada (Hamilton was second on the grid and claimed his first race win of the season) and in Valencia (Hamilton qualified second again but crashed out following an accident with Williams' Pastor Maldonado) seemed to have turned the tide in the Woking team's favour. However, reports that the former world champion, whose contract expires at the end of the season (he has been reportedly offered a five year deal worth £100mn), has declared himself unhappy with team tradition of drivers not being allowed to keep their race-winning trophies suggests more storm clouds on the horizon for the team.
"Winning the British Grand Prix and getting that trophy - it's the best trophy I have ever seen," said Hamilton (referring to the trophy for his 2008 Silverstone win), according to the Mirror, adding, "I have not seen it since I won it because Ron keeps every ­trophy, which isn't good and it definitely won't be ­happening in the ­future."
The other major talking point going into this weekend's British Grand Prix is talk of rejuvenation at another equally troubled team - Ferrari. The Italian champions have endured a torrid year, with Brazilian driver Felipe Massa and his performances this season epitomising all that has gone wrong the Maranello-based team this year. Massa, a Ferrari favourite, was even warned of his poor performances and future at the team. The whole squad responded with strong showings at the Monte Carlo Grand Prix and the Valencia win has certainly boosted the team. Ferrari president Luca Di Montezemolo confessed himself delighted at the win but cautioned his employees, saying much still remained to be done.
"I don't want outsiders to think that one win is enough for us to put on a fireworks display," said Di Montezemolo at the Scuderia's traditional post-victory gathering at the Maranello factory, according to a report on Formula1.com, "I know how much you are working, how many sacrifices have been made, but I am the first to know that all of us, without exception, must still give something more. We must ensure we do everything as well as possible because winning depends solely and exclusively on us. It would be a big mistake to think the win in Valencia means we have done enough. We have a competitive car, but to win, we must do even more."
Finally, the major talking point ahead of the first Free Practice session at Silverstone on 6 July is news that Bernie Ecclestone faces a probe, launched by German investigators, into a bribery scandal. A report by the Daily Mail suggests a court case into corruption charges against Gerhard Gribkowsky, a banker who admitted to receiving £28mn in payments during the sale of German bank BayernLB's stake in Formula 1 to CVC Capital Partners in 2005. Ecclestone gave evidence in the trial last year, claiming he was being blackmailed by Gribkowsky.
The British Grand Prix - The Race
Moving back to on-track matters, the weekend is expected, weather-wise, to be a wonderfully typical British weekend, with low temperatures and rain forecast for all three days (6 July - 8 July).
The Sauber team, whose promising start to the season (sixth and eighth place finishes in the Australian Grand Prix and a stunning second place for Sergio Perez in Malaysia) has faded away into inconsistent performances, are hoping for better things in Silverstone.
"The Silverstone circuit is very different from the last two tracks we've been racing on. It has some challenging high speed corners and requires a set-up which is optimised with regard to aerodynamics as well as changes of direction. We will be running the soft and the hard tyre compounds, which I expect to suit this track nicely, and also warming-up should not be an issue. Our Sauber C31 will get an aerodynamic development package, which includes some modifications of the engine cover and the rear of the car," Giampaolo Dall'Ara, the team's head of track engineering, told Formula1.com.
However, a few drivers and teams made references to expected cooler conditions and while welcoming the change in temperature from Valencia, did point out that if it became too cold, the Pirelli tyres (the French manufacturer has come under criticism this season for unpredictable tyre behaviour) could take too long to warm up, creating problems during qualifying runs. The race, given the sustained pressure on the tyres, is not expected to be as troublesome.
"The track itself will put plenty of energy through the tyres thanks to its layout of high speed corners and the abrasion of its surface. While we would be delighted if the UK managed one of its occasional heat waves, there's certainly potential for the surface temperature to be cooler than Valencia. Low track temperatures would only cause us grief in qualifying, and if we can manage that ourselves rather than needing the track to heat up our tyres then it will be okay," James Allison, Lotus' technical director explained.
As far as McLaren are concerned, the team is expected to bring upgrades to Silverstone and a BBC report quotes Hamilton as hoping they can make a difference. The British driver has confessed to being worried by developments made by both Ferrari and Red Bull.
"We've got some upgrades coming. We're going to need them because other teams have obviously been making some serious steps forward. Our car doesn't seem to go so well on the lower speed circuits like Valencia, but I think on the higher speed circuits like Silverstone, we should be able to be more competitive there," he said, adding, "Trying to look after our tyres is our biggest problem so hopefully there's a better chance with the new upgrades."
Stay tuned to IBTimes UK's coverage of the 2012 Formula 1 British Grand Prix, as we continue to bring you race previews, driver quotes and tactical analyses, ahead of the weekend's race!