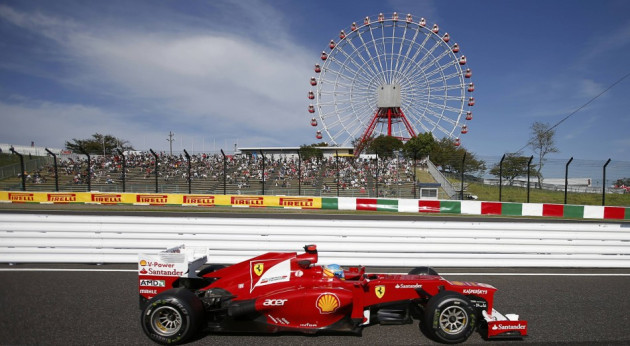 The 2012 Formula 1 World Championship has six rounds to run, including this weekend's race at Suzuka in Japan and defending champion Sebastian Vettel's victory at the previous race, in Singapore, has given the title race a new twist.
Ferrari's Fernando Alonso was the clear leader and favourite to win (his third world championship title) after the first half of the season. however, since the mid-season break (between the Hungarian and Belgian races), the revival of McLaren coupled with the downturn in Ferrari's fortunes have seen the Spaniard's lead at the top cut down to only 29 points. More importantly, Vettel's win at Singapore moves him up to second place in the standings and back into contention to defend his title.
The 2012 Japanese Grand Prix has also been dominate by news from off the track, most notably by announcements from Lewis Hamilton, McLaren-Mercedes and Michael Schumacher. Hamilton, the 2008 world champion, has confirmed he will race for the Mercedes works team from the 2013 season onwards, bringing the long-standing issue of a new contract with the Woking-based McLaren team to an end. Hamilton's arrival at Mercedes, in turn, led to Schumacher, 43, and a seven-time world champion, to announce his second retirement from the sport.
The German, who won a record five world championships with Ferrari between 2000 and 2004, first retired at the end of the 2006 season but was tempted back former race manager Ross Brawn to race for the then newly-formed Mercedes team. Unfortunately for Schumacher, his second coming in the sport has been poor and the veteran has only one podium since he came out of retirement.
Free Practice Results
Meanwhile, back on track at Suzuka, the Friday practice sessions suggest little has changed since the night race at Singapore. Ferrari continues to struggle in this second half of the season, with the best finish, across both sessions, going to Alonso (1:33.093 for fifth in the second session). The Spaniard's under-fire team mate, Felipe Massa was six-tenths off that time and down in ninth place in the same session.
At the top of the order, the McLaren is still the dominant force. Both drivers - Hamilton and Jenson Button - were in superb form. The Woking team locked out the front row of the first session, with times of 1:34.507 (Button) and 1:34.740 (Hamilton) and followed that with a best of 1:32.707 (Hamilton) in the second session.
Joining the McLarens at the top of the timesheets were the Red Bull Racing team... the defending champions for the constructors' title seem to have recovered a measure of form. Australian Mark Webber finished third in the first session (1:34.586) and improved by more than two seconds in the next session, to top the sheets with 1:32. 493. Vettel, meanwhile, had a horrible first session, finishing way down in 17th place. However, the German fought back brilliantly to record a best of 1:32.836 and finish third in the second session.
The best part of both sessions, however, was the fact they were both run in dry conditions. Recent races have seen at least one, if not more, session run in damp, slippery or even outright wet conditions, leading to loss in performance and even accidents.
Top Ten (Free Practice 1)
Jenson Button (McLaren) 1:34.507
Lewis Hamilton (McLaren) 1:34.740
Mark Webber (Red Bull) 1:34.856
Nico Rosberg (Mercedes) 1:35.059
Michael Schumacher (Mercedes) 1:35.122
Kamui Kobayasho (Sauber) 1:35.199
Felipe Massa (Ferrari) 1:35.283
Paul di Resta (Sahara Force India) 1:35.299
Nico Hulkenberg (Sahara Force India) 1:35.474
Pastor Maldonando (Williams) 1:35.478
For a full timesheet, click here.
The most striking feature of these times is how remarkably close some of the drivers are. For example, only four-tenths of a second cover Rosberg in fourth and Maldonado in 10th, while three-tenths cover the top three.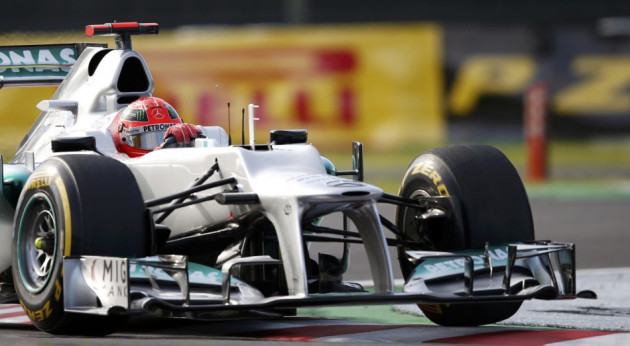 The session was also Schumacher's first appearance on track since announcing his second retirement and the veteran German, who took pains to state his second retirement was not motivated by a realisation he could not compete anymore, was obviously keen to make a statement.
"I can be happy with my performance and the fact that I was continuously raising my game during the last three years. But then, at some point it is time to say goodbye. I said at the end of 2009 that I wanted to be measured by my success, and this is why I had a lot of criticism in the past three years, which was partly justified," the former Ferrari ace said in an earlier release, adding, "There is no doubt we did not achieve our goal of developing a car capable of fighting for the world championship in those three years. But then it is also clear that I can still be very happy about my overall achievements in Formula One."
Top Ten (Free Practice 2)
Mark Webber (Red Bull) 1:32.493
Lewis Hamilton (McLaren) 1:32.707
Sebastian Vettel (Red Bull) 1:32.836
Nico Hulkenberg (Sahara Force India) 1:32.987
Fernando Alonso (Ferrari) 1:33.093
Romain Grosjean (Lotus) 1:33.107
Jenson Button (McLaren) 1:33.349
Bruno Senna (Williams) 1:33.449
Felipe Massa (Ferrari) 1:33.614
Michael Schumacher (Mercedes) 1:33.750
For a full timesheet, click here.
The second session was once again very tight, with five-tenths between the top four and places five to eight another four-tenths apart. In addition, the presence of drivers like Sahara Force India's Nico Hulkenberg in fourth - a massive 2.5s better than his first session time - and that of Lotus' Grosjean, whose first session time was a poor 1:35.724, suggested the track was still improving, in terms of grips. Expect times to tumble even further during the third practice session on Saturday, before the business of qualifying begins.
Meanwhile, Schumacher's second session at Suzuka ended in disappointment, with the German crashing at Spoon Curve at the back end of the circuit. In fact, the Mercedes team in general had a poor second session, with Schumacher's 1:33.750 (for 10th) the fastest they could manage.
Free practice continues on Saturday, with the third and final practice session scheduled to start at 2.45 am BST. The qualifying session will begin later in the day, at 5.45 am BST and the race is set for a 6.45 am BST start on Sunday, 7 October.