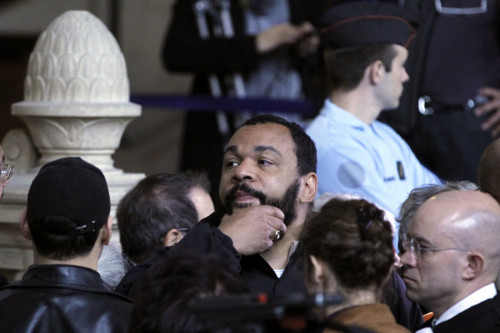 French authorities are investigating embattled comedian Dieudonné over alleged money laundering of hundreds of thousands of euros.
Detectives in Orleans believe that Dieudonné, whose show has been banned in several French cities for its anti-Semitic content, has sent more than €400,000 (£330,000) to Cameroon since 2009, Le Monde newspaper reported.
The comic, the son of a Cameroonian father and Breton mother, allegedly sent €230,000 to the African country in 2013.
Interior minister Manuel Valls accused the controversial comic of attempting to fake bankruptcy to avoid paying tens of thousands of euros in fines for racist abuse.
"All the services of the state must be mobilised so that Dieudonné, who is trying to organise his bankruptcy to avoid paying fines, is obliged to pay them," Valls told Europe 1 radio.
Dieudonné has yet to pay €65,000 in fines over a spate of anti-Semitic remarks he made in 2006 when he compared Jews to slave traders.
The 47-year-old, whose full name is Dieudonné M'bala M'bala, remains extremely popular in France and, according to Le Monde, the company that produces his shows has a turnover of almost €2m.
However, authorities have been unable to evaluate his wealth because he is not an employee or shareholder of the production company. The stakes in the firm are evenly divided between his wife and his mother.
The comic has faced mounting pressure from authorities and media in recent weeks, after allegedly making an anti-Semitic remark to a Jewish journalist in December.
"When I hear him talking, I say to myself: Patrick Cohen, hmm... the gas chambers... what a shame," Dieudonné said.
The government asked prefects in cities on Dieudonné's 2014 tour route to cancel the show saying it represents a threat to the public order.
Local authorities in Bordeaux, Nantes and Tours have since decided to keep the comic off stage - a move backed by President Francois Hollande.
"No one should be able to use this show for provocation and to promote openly anti-Semitic ideas," Hollande said.