Farmers in France are staging protests across the country, barricading highways, dumping manure outside banks and setting fire to rubbish outside supermarkets.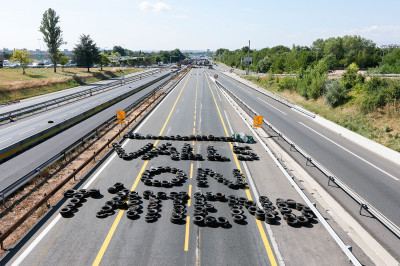 Livestock farmers are accusing food companies and supermarkets of not respecting a deal signed last month in which they agreed to raise prices paid to producers. Tensions are particularly high in Brittany and Normandy in the north-west of the country.
Minister of Agriculture Stéphane Le Foll, who met farmers in Caen, said the government would try to refocus subsidies for farmers. But they said they did not want more subsidies but fair prices.
French Prime Minister Manuel Valls has said that the government aims to reverse a drop in competitiveness on local and export meat and dairy markets, notably against other European countries where prices have been significantly lower.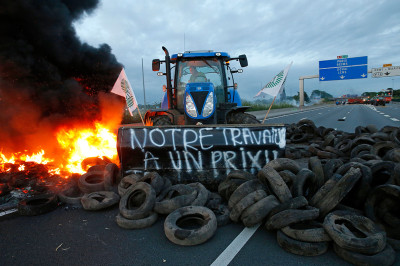 Farmers in France – many of whom are traditionally right-wing – have become increasingly frustrated with the Socialist government of Hollande, saying that increased paperwork and high labour costs are the main causes for their loss in competitiveness. Polls show a rising number of farmers are turning to the far-right National Front.