A far-right politician who compared France's Justice Minister, who is black, to a monkey has been sentenced to jail in a controversial court ruling that also fined the National Front (FN) party tens of thousands of euros.
A court in Cayenne, the capital of France's overseas territory of French Guiana, in South America, found Anne-Sophie Leclere guilty of making a racial slur against Christiane Taubira, by posting online a picture of the minister next to a baby monkey.
The court sentenced Leclere to nine months in jail and handed her a five year ban from public office and a €50,000 (£39,000) fine. It also fined FN €30,000.
The politician and FN denounced the ruling as disproportionate, suggesting it was politically motivated.
"It's totally disproportionate, I'm very shocked," said the 33-year-old. "Criminals are sentenced to wearing a [electronic] bracelet and I get jail."
The case erupted last year as Leclere, a shopkeeper who was running as FN mayoral candidate in the Ardennes village of Rethel, posted on Facebook a split picture showing Taubira on one side and a baby monkey on the other, with a caption reading: "18 months" and "now".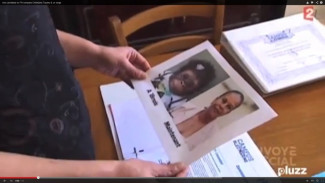 Leclere denied the post was racist but was later suspended from FN, as its leader Marine Le Pen was attempting to steer the party clear of controversy ahead of local end European elections.
In Taubira's native French Guiana, however, a left-leaning political movement founded by the Justice Minister - the Walwari party - lodged a criminal complaint against Leclere and FN asking the court to "denounce the extreme-right ideological base of Marine Le Pen's party."
After the sentence was announced, FN chairman Jean-Marie Le Pen accused judges of "betraying" the law and "raping" morals in a tweet.
FN also claimed they were not able to find a single lawyer in French Guiana willing to take up their case and lamented the trial had been "unfair", as defendants were demanded to appear before a court thousands of kilometres from France.
The far-right party, which came first at the EU elections in May, also accused the chair of the Cayenne court, Stéphane Rémy, of bias for he is a member of a left-leaning Magistrates' union.
Other politicians welcomed the ruling instead.
Radical Left lawmaker Paul Giacobbi said the sentence was fair: "The baseness of the insult deserved an appropriate sanction."
Stephane Le Foll a spokesperson for the Socialist government said: "What is revolting is what the FN candidate said. I do not judge the judgement but condemn that racist act."
Centre-right UMP MP Eric Ciotti tweeted: "those remarks were unacceptable and shameful; the sentence appears to me as completely justified."
Despite longstanding accusations of racism, anti-Semitism and xenophobia, FN won almost 25% of the French vote at the European elections earlier this year, leading a continental surge in support for nationalist parties.
Both FN and Leclere said they intend to appeal the sentence.