France was left reeling from its third major terrorist attack in less than two years on Friday (15 July 2016) after Mohamed Lahouaiej Bouhlel drove a lorry into crowds celebrating Bastille Day in the southern city of Nice. Francois Hollande, the French president, said that the country was "in tears" after 84 people were killed and hundreds more injured in the attack on the Promenade des Anglais.
As France announced three days of national mourning between 15 and 18 July, leaders from across the world expressed sympathy with the families of victims from over a dozen nations, including France, Britain, Switzerland, Russia the US and Tunisia.
Among the dead were as many as 12 children, four members of the same family and a father and son from Texas, Sean and Brodie Copeland, who had been on a tour of Europe. At least one French Muslim, Fatima Charrihi, was killed with her son, Hamza, telling French media that his mother followed "a real Islam. Not that of the terrorists".
The attack began on the evening of July 14 as a crowd of 30,000 gathered in the city to celebrate Bastille Day, a public holiday that commemorates the beginning of the French Revolution in 1789. Bouhlel , 31, drove his truck at speed into the crowds, zig-zagging across the promenade at as much as 40 miles per hour.
He opened fire on the crowd before eventually being shot dead by police, who reportedly fired as many as 40 bullets through the vehicle's windscreen. It later emerged that Bouhlel had an automatic rifle and another pistol in the cab of the truck and a number of other replica weapons.
A witness described the chaos that ensued as the attack began. "My friend said something like, 'Look out, look out'. I saw her face and I saw the truck coming. I turned around and there was someone on the side of it as it was hitting people. It had people on the front about to go under it, and then it went straight past with all these bodies on the floor," a British tourist, who did not want to be named, told the Press Association.
"My friend was OK. It carried on a little bit further. There was a man and it had gone over his head. And there was an older lady there and there were two children there who I think were siblings. And then it just went really quiet for a moment. A woman started screaming and then I heard machine-gun shots. Everybody said, 'Get down, get down'," she said.
As the day went on more details emerged about Bouhlel, a recently divorced violent criminal. French television quoted neighbours as saying he was more interested "in girls and Salsa" than in religion, but reports also emerged that the attacker had been heard shouting "Allah Akbar" or 'God is Great'.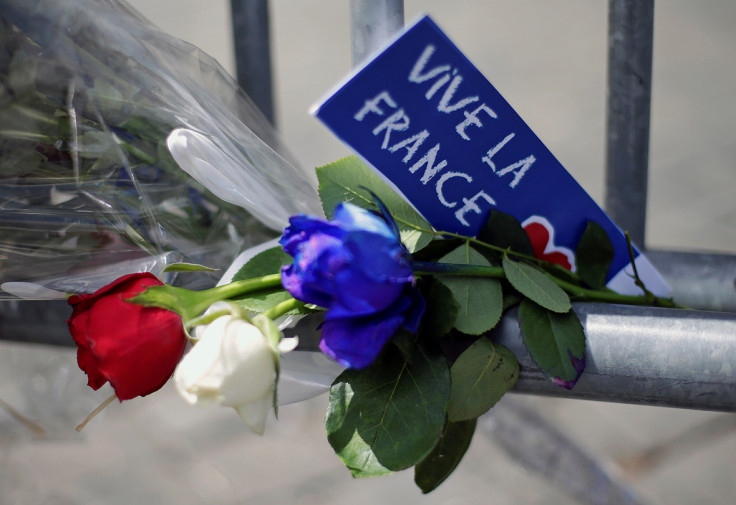 Later a Paris prosecutor confirmed the identity of the attacker as Bouhlel through fingerprinting and said that while the attacker was known to police, he was not known by the intelligence services and showed no signs of radicalisation. He said Bouhlel's ex-wife was currently in protective custody.
Islamic State (Isis) has not claimed any responsibility for the attack but in his speech Hollande alluded to France's involvement in fighting the terrorist group in Iraq and Syria. IS spokesman Mohammed al-Adani listed France in a list of Daesh enemies in September 2014 and called for the group's supporters to carry out attacks.
This evening, French Interior Minister Bernard Cazeneuve commented that he cannot confirm if the attacker's motives were linked to jihadism. "We have an individual who was not known to intelligence services for activities linked to radical Islam," he told broadcaster TF1.
We are facing a battle that will be very long
Hollande announced that the state of emergency that was imposed after the Paris attacks and gives French police the power to raid houses without a warrant would be extended by three months. His comments came as he faced criticism from across the political spectrum from those who believed the attack was preventable.
"Our enemy will continue to strike. There are many young children among the victims. Their lives were taken to satisfy the cruelty of an individual," Holland said in a televised speech. "We are facing a battle that will be very long."
UK Foreign Secretary Boris Johnson issued a statement on the attack: "The UK stands shoulder to shoulder with France following this appalling and cowardly attack. No country is immune to terrorism, and we are united with our French and European partners as we deal with these threats to our countries and our way of life," he said.
As the country begins to confront the stark reality of the latest terror attack on French soil, President Hollande arrived at the Pasteur Hospital earlier today (15 July), accompanied by French Interior minister Bernard Cazeneuve, to personally meet the survivors and hear their stories.
In a statement he described the physical and psychological wounds suffered by the victims, many of whom were so traumatized they were unable to remember how their wounds were inflicted. However, they could remember the scenes of carnage and death all around them so vividly that he feared the horror of the attack would continue to haunt them 'for their whole lives.'
Paying tribute to the emergency services he called on the people of France to unite. "... it's this unity, this cohesion, this strength that I appeal for today, in Nice, so that France can be stronger than those who mean us harm, who think about harming France, who inflict suffering on it. But they are the harm that we're capable of defeating, because we're a unified France."
A total of 154 people have been killed in terrorist attacks in 2015, including 130 during the Paris massacre and 20 during the January assault on the offices of satirical magazine Charlie Hebdo. A further four people have been killed in lower-level Islamic State (Isis)-inspired attacks elsewhere in France.