Mohamed Lahouaiej Bouhlel, the man accused of killing 84 people by driving a lorry through revellers during Bastille Day celebrations in Nice 'was no Muslim, ate pork, drank alcohol and took drugs', according to the cousin of his ex-wife.
The 31-year-old was said to have been a divorcee with a minor criminal record that included convictions for domestic violence and threatening behaviour due to a road rage incident. Bouhlel was shot dead by armed officers after ploughing into men, women and children celebrating the annual bank holiday on the Promenade des Anglais.
Police say he was firing at them too, after eyewitnesses described seeing the driver "zigzagging" down the street in order to hit cause as many deaths as possible. Officers found identity papers, credit cards inside the truck, along with guns and grenades.
Bouhlel, a Frenchman of Tunisian descent, had three children with his ex-wife Hajer Khalfallah but as links with terror groups such as the Islamic State (Isis) or al-Qaeda are analysed people that knew the former delivery driver as "not very religious".
A cousin of Bouhlel's wife named as Walid Hamou, told the Daily Mail: "Bouhlel was not religious. He did not go to the mosque, he did not pray, he did not observe Ramadan. He drank alcohol, ate pork and took drugs.
"This is all forbidden under Islam. He was not a Muslim, he was a s***. He beat his wife, my cousin, he was a nasty piece of work."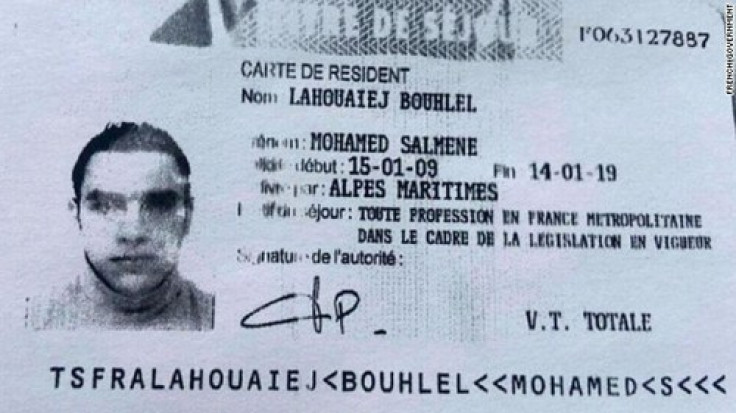 The morning after the incident (Friday 15 July) detectives raided the 12th floor apartment she had shared with her former husband. Hours earlier the Bouhlel's flat 15 minutes north of Nice city centre was searched by police.
Speaking to L'Express a Tunisian neighbour revealed details about Bouhlel's frame of mind in the hours leading up to the murderous rampage on the Cote d'Azur. Named as Wissam, the neighbour said: "On the Thursday night he was drinking with a colleague and they argued. His pal said you're worth nothing and he replied: 'One day, you'll hear about me."
He added: "Look this is someone who drinks, smokes cannabis." According to reports, Bouhlel's wife was taken into protective custody by police as counter-terrorism investigators try to establish his motives and, possibly, if there are any accomplices.
This evening, French Interior Minister Bernard Cazeneuve commented that he cannot confirm if the attacker's motives were linked to jihadism. "We have an individual who was not known to intelligence services for activities linked to radical Islam," he told broadcaster TF1.