French authorities have started evicting hundreds of migrants from a camp in the capital Paris's 18th Arrondissement on Wednesday (29 June) morning. Many migrants left the port of Calais in May after the French authorities bulldozed part of the notorious 'Jungle' makeshift camp.
Most of the migrants hoped to illegally enter Britain from the camp by being smuggled aboard ferries or Eurotunnel freight trains. Around 1,000 Eritreans, Sudanese and Afghans were said to have headed south to Paris, where they set up the camps.
Last year, migrants were violently expelled from the same tented camp on Nathalie-Sarraute public square where they had regrouped following police destruction of another refugee camp in Paris at Porte de la Chapelle.
However, around 500 migrants had began resettling near Halle Pajol since mid-June, according to an estimate published by the region's Prefecture on Tuesday (27 June 2016). There, fatigued and weak migrants slept on mattresses, or at times on the pavement. A fire hydrant from the nearby street has been transformed into a tap, used for washing and cleaning dishes.
According to the association Quartiers Solidaires, a number of migrants in Pajol had already been evacuated in 2015. "Some climbed in a bus without knowing where they were heading. When they found themselves crammed into gymnasium in the suburbs, they did not see a genuine improvment of their lives, compared to the streets," organisation member Benedict Alavoine is quoted as saying by Le Monde.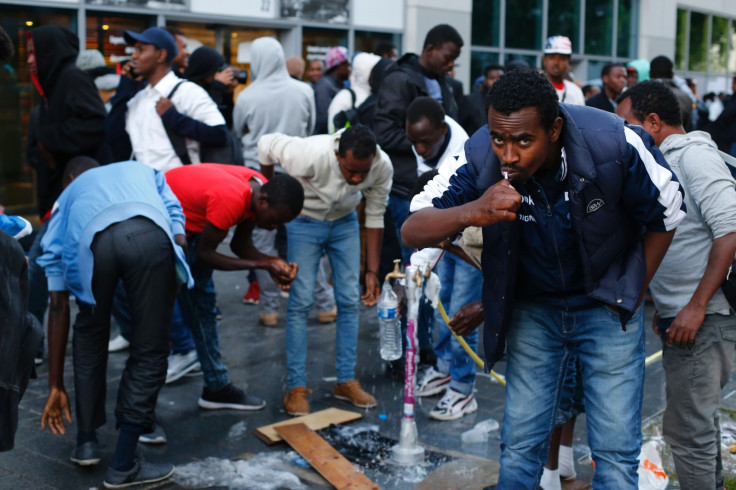 25th camp evacuation since June 2015
Wednesday's operation is being conducted by the regional Préfecture de Police, representatives at the city of Paris, as well as solidarity associations Emmaüs and France Terre d'asile, and the OFII – the French office for immigration and integration. It is the 25th such operation since June 2015. More than 11,300 migrants have been affected in all .
According to local media, the evacuation began just before 06:30 (GMT+1).
In what has become an unfortunate, unsavoury routine, local media described the migrants – the large majority of whom come from Sudan, Afghanistan and Eritrea – as packing their bags, folding up their tents and taking their belongings before climbing into buses. From there, the authorities are expected to take them to 70 accommodation shelters located in Paris' Ile de France.
"There is an extraordinary mobilisation of the state and the city of Paris", Bruno Morel, the head of the Emmaus Solidarité charity, which helps the migrants in Paris, was quoted as saying by the Agenge France Presse (AFP). "But Paris can not concentrate everything, otherwise there will be an explosion [crisis]. We have to come to one national approach."
The regional prefect, Jean-François Carenco acknowledged he found its difficult to "understand the level of requirements of these people", adding: "Many have experienced war or dictatorship and do not want to go in the provinces or in a shelter Ile-de-France."