Eurotunnel has asked the British and French governments to refund €29m (£22.6m, $32.3m) it lost in revenue because of the refugee crisis in Calais.
The company announced on Thursday (18 February) that it is claiming the money from countries on both sides of the channel for lost revenue and extra operating costs. Eurotunnel said the costs were not accounted for in 2015.
In the second half of 2015, passenger shuttle services were disrupted due to refugees who attempted to enter the UK via Calais in France. Both of the Eurotunnel's subsidiaries, Le Shuttle and Eurostar were affected by the crisis in Europe. The company said the claim had not been accounted for in 2015.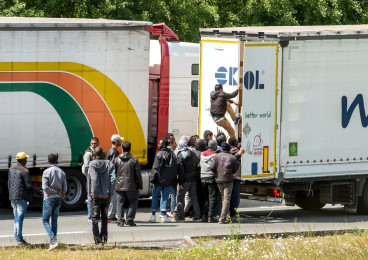 "The security of the Fixed Link being the responsibility of the two governments, a claim for €29 million has been made via the Intergovernmental Commission, to compensate essentially the revenue losses due to migrant pressure," the company explained.
The Paris terror attacks in November 2015 led to a €4.8m revenue loss, according to Eurotunnel. The atrocities, which killed 137 people including seven attackers, has had a severe short-term impact on the tourism sector in Paris.
Results
Eurotunnel set out the compensation claims in its full year financial results over 2015. The company boosted revenue by 5% in 2015, while earnings before interest, taxes, depreciation and amortisation (EBITDA ) edged up by 2%.
"In a difficult environment in 2015, the Group worked with the efficiency of a private company to deliver a genuine public service," Jacques Gounon, Eurotunnel's chairman and chief executive said in the financial statement. "This was achieved through the commitment of its staff, close cooperation with the two governments and an exemplary capacity to react to events," he added.
Eurotunnel's share price fell more than 2.4% in morning trading, despite a 22% hike in deficit. The company expects to increase its EBITDA by 3.3% in 2016 and a further 8% by 2017.