The French regional elections of Sunday (6 December) reflected a deeply divided country, as the anti-immigration far-right Front National (FN) made record gains, winning over 30% of the vote in the first test of public opinion since the 13 November terrorist attacks that killed 130 people in Paris.
FN came ahead of former president Nicolas Sarkozy's conservative Les Républicains (LR) party, which polled 27% of the national vote. President François Hollande's ruling Parti Socialiste (PS) came third, securing 22.7% according to final estimates from the interior ministry.
Social media networks soon became a political ring, as users clashed over the far-right party's historic win after riding on the ticket of abandoning the euro, restoring the death penalty, and curbing immigration.
Immigration ticket
The FN first emerged in the 1980s as a party whose main bugbear was uncontrolled immigration - a message Le Pen hammered in the run-up to the elections. During her campaign, the leader lashed out at a plan to impose quotas of refugees across Europe, calling for all migrants to be sent back home - without distinguishing those fleeing war from those coming for economic reasons.
"We're told to accept 160,000 illegal immigrants this year, but next year it will be 700,000 and the following it will be 1.2m," Le Pen told supporters in Marseille in September.
As the first estimates fell, user Nadege from Fontoy in Lorraine posted: "I am laughing. Everyone is freaking out, but if you are clean, why would you be scared of the Front National? When you see all these immigrants who come and impose their laws, if this continues France will no longer be a country! And you get up every morning to work for €1,500 (but) they are fed, get free board and lodging from the state without doing anything (working)! There is only one party that can change that, the FN."
A recent graduate in graphic design, Tristan, shared the same thought, claiming: "[Le Pen] is the only one who can save [France]". Another user, Nick, agreed: "If they're the only ones to tackle the immigrant tsunami, then they deserve to win".
A political alternative
Security fears seem to have pushed many voters from the centre to the far-right. The elections came three weeks after the Paris massacres, which the FN party is reported to have benefited from, as it emerged that at least two of the attackers may have entered Europe posing as migrants.
A number of voters blamed the Paris massacre on the "leftist hypocrisy and Sarkozy's pointlessness that has led us to the 13 November".
Other users described how they lost faith in mainstream parties, which are seen as not offering any distinguishable programme. "Nothing on the left, nothing on the right," wrote Amberato on Facebook, a student from Dunkirk and FN supporter. "We have taken the right road by going in a straight line and avoiding the stony paths. Long live France."
This view was echoed by Sophie, a French living in Quebec, who said: "Personally, I have seen the left and the right, (they are) all incompetent. This time, I tried the only ones who have not been in power, and we'll see what happens. I'm taking the risk, it can't be any worse".
"We must stop to pass the Front National off for a 'demon'. And it would be good that the left and the right stop thinking about their comfortable little seating places. I'm saying that and I am not even a pro-Front National but things must change. We need change," said Marie-Noelle, a Facebook user from Aquitaine region.
Commenting on the fact the FN polled ahead in at least 6 out of 13 regions in mainland France, a user who calls himself Nomar, wrote: "All these cities have been abandoned with PS [socialist party] and LR [conservative party] projects for years - no change, no concrete projects for France, for the Republic [...] the country is going straight into a wall, no money. Well done Marine Le Pen, rebuild the country."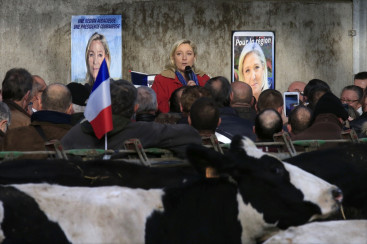 Economic gloom
French people are also reported to have grown weary of mass unemployment, and many believe the FN's policy can help the country recover from economic stagnation.
The country's latest unemployment statistics published in October showed the worst joblessness situation for nearly 20 years, as the rate rose to 10.6% in the third quarter. The figure equates to 75,000 more people without a job.
"And do you know your democracy? It is time to wake up, French people, we have been deceived for too long! My policy is for my children to live in a country, their own, in peace and most of all that they have food to eat!" said Laurent as he commented on Marine Le Pen's post-result speech published on France TV Info's Facebook page.
While supporters of the FN remain a minority, commentators are wary potential gains could be made, especially if France's economy worsens.
A divided nation
Reacting to Marine Le Pen's post-result speech published on France TV Info's Facebook page, a number of users criticised those who "voted for the Demon".
"I think French people who voted for the FN don't know their politics," Francoise commented before urging voters to "inform themselves". A young user from the Champagne-Ardenne region responded: "We will soon have to say our farewell to democracy, with all these dictators rising in power." Jean-Philippe, a singer coming from the overseas department of Martinique, who also voted on Sunday, added: "Finally, all French are racist if I believe the French map [of results]?"
Many on social networks also criticised the 50% abstention rate. "It's difficult to complain about a ballot with 50% of voters. One French out of every two has not voted, it goes to show what kind of concern and interest we had for these regional elections," said Peter from Paris.