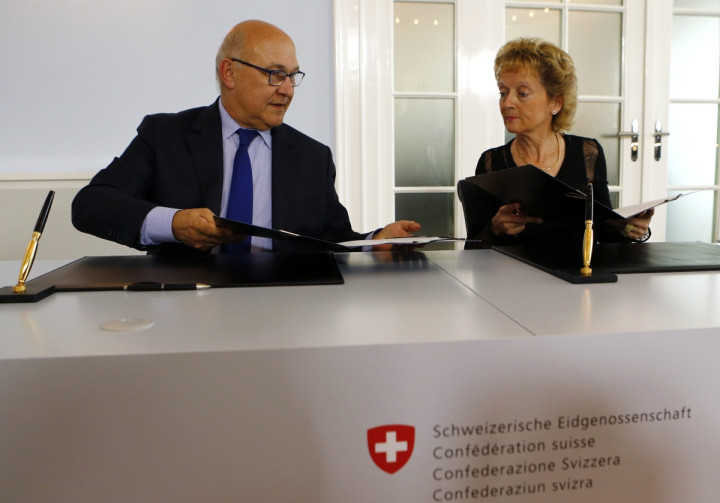 France and Switzerland have shaken hands on working closer together in the fight against tax evasion.
The deal sees greater information-sharing by the Swiss with French tax authorities. France can now request access to data on groups of its citizens' bank accounts in Switzerland, famed for its secrecy in finance. But the data will not include the names of the account holders.
An agreement was made in Bern between the French and Swiss finance ministers, Michel Sapin and Eveline Widmer-Schlumpf. Both also agreed to keep discussions open on tax evasion.
"Improving the exchange of information on judicial request is a step towards the automatic exchange of information, which is set to become standard in international tax cooperation," said France's Sapin.
The French government, which is trying to crack down hard on tax evasion amid its austerity programme of public spending cuts and an ever-weak economy, said it has raised an extra €1bn in taxation from citizens coming clean about assets hidden abroad, the overwhelming majority of which have been sitting in neighbouring Switzerland.
Swiss authorities are making moves to become more transparent about the murky financial world within its borders after international pressure. It has agreed to begin sharing information with tax authorities all over the world.
One deal with the UK has seen an extra £900m flow into the Treasury from Switzerland, with more expected to come.
A former HSBC employee is wanted by Swiss authorities on charges of stealing bank account data after he exposed sensitive customer information that is now being used by several governments, including France, to hunt tax evaders.
Hervé Falciani, a systems engineer, worked at HSBC Private Bank Suisse for ten years before disappearing in 2009 with the data from around 130,000 accounts.
Falciani lives in Spain, where Swiss authorities had unsuccessfully tried to extradite him from in May 2013. Spanish courts ruled against the Swiss attempt to grab him from the country after an international arrest warrant saw him taken into custody.
He has advised French lawmakers on fighting tax evasion.