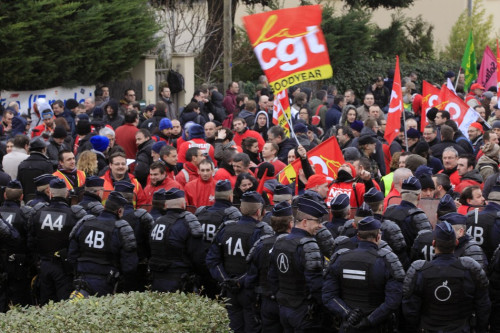 Workers at a Goodyear tyre factory in Amiens, northern France, are holding two executives captive after the closure of the site was proposed.
Union representatives have promised to continue the siege until they have an agreement beneficial to the 1,173 workers employed there, who currently face unemployment.
Representatives from France's largest trade union, the Confédération Générale du Travail (CGT) has confirmed the production manager Michel Dheilly and human resources director Bernard Glesser have been captured.
Reports of the kidnapping first appeared in the regional newspaper Courrier Picard, which also stated that a large tractor tyre had been wedged up against a meeting room door to prevent them leaving.
When asked why workers had taken such extreme measures, the CGT's Michael Warmen said: "They are firing everyone without giving them a say in it."
"Boss-napping" became rife in France in 2009 at the height of the economic meltdown, although the practice has since tapered off.
The Amiens plant has had an incendiary recent history. Goodyear has been trying to restructure or close the factory for more than five years, yet violent protests, government concerns and France's prolonged layoff procedures have suspended the process.
The factory also made headlines last year, when France's Minister for Industrial Renewal Arnaud Montebourg, wrote to American CEO of Titan Maurice Taylor, asking him to come to their aid.
Taylor responded by saying he would not be so "stupid" to get involved. He also berated Goodyear employees for working only three hours a day and talking and eating too much.