A French senator has come in for heavy criticism after he used a reference to Hutu and Tutsi people, two groups in Africa that became known through the 1994 Rwanda genocide and decade-long civil war in Burundi, to describe the alliance formed by two French Presidential candidates.
Election hopefuls outsider Emmanuel Macron and François Bayrou, a veteran centrist, on 22 February announced they were forming an alliance ahead of France's elections, the first round of which will be held on 23 April 2017.
Activists and social media users lambasted Senator Pierre Charon after he posted a tweet referring to the surprise alliance between Macron and Bayrou. In the tweet, which came accompanied by a picture of the candidates together, Charon wrote:
"@bayrou: When the Hutus join the Tutsis! This is thus the proof Macron is (outgoing Persident Francois) Hollande's candidate"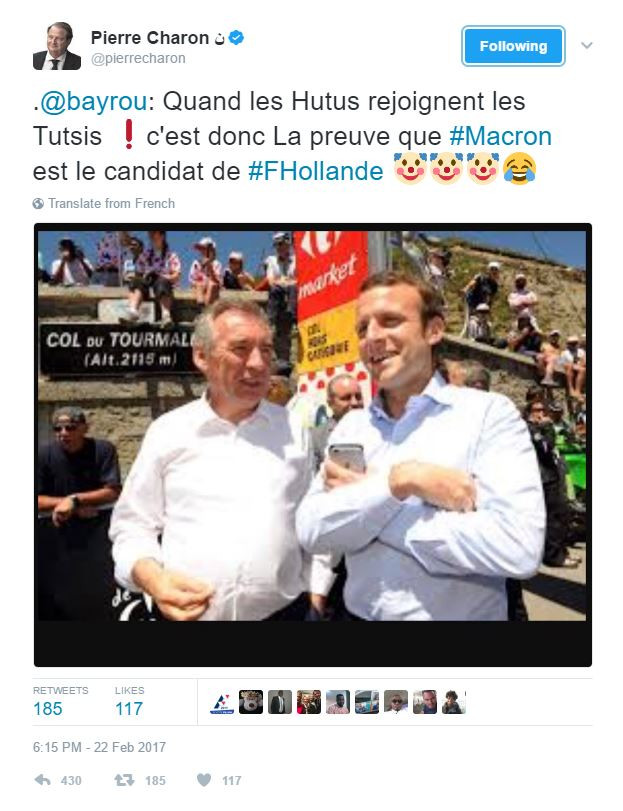 Senator for Paris, Charon is the National Secretary for former President Nicolas Sarkozy's Les Republicains centre-right political party.
Alain Gauthier, founder of Collectif des Parties Civiles pour le Rwanda (CPCR), an organisation that tracks down genocide fugitives, shared the "dubious" tweet, saying:
"Pierre Charon's tweet. In what brains can such 'bulls**t' germinate? (sorry Mr Charon, I have no other term). Do you know what a GENOCIDE is? And it is our politicians who express themselves in this way? Or how to get other people talking about oneself! We have reached new record highs .... APPALLING!"
France was Rwanda's main European backer until the genocide. Rwanda cut all ties with France following the Rwandan war, after it accused France of complicity with the genocidaires – including training and arming the Hutu militias who were the main force behind the slaughter. Paris has continuously denied the charge.
A journalist at Mediapart online investigative and opinion journal, Fabrice Arfi, responded to the tweet. "Without shame, the former adviser of Sarkozy @pierrecharon compares a presidential rally to a genocide."
A social media user, Francois Moscato, called for Senator Charon to step down. He wrote: "@pierrecharon (Will) your next comparison be with the Nazis and the Jews? #shameonyou #resignation (you) abject person."
A Burundian opposition activist, who tweets under the handle @AmahoroI, said "A lawsuit is required against this foul tweet. It's to vomit."
Burundi could be heading for a Rwandan-style genocide after a number of calls for ethnic-based massacres emerged on social media in recent months – orders the embattled authorities have condemned.
The east African country's past is scarred by the Hutu-Tutsi ethnic conflict which resulted in the slaughter of between 80,000 and 200,000 Hutus by the Tutsi army in 1972, and the civil war from 1993 to 2005 which left 300,000 people dead following massacres of the Tutsi by the majority-Hutu populace.