A Jewish blogger has advocated genocide as a "permissible" way to achieve the goal of a sustainable peace in Israel.
Yochanan Gordon, who is from New York, posted on the Times of Israel an op-ed entitled "When Genocide is Permissible" in which he argues that the only way to deal with Hamas is using an extreme measure of punishment.
"We have already established that it is the responsibility of every government to ensure the safety and security of its people," he wrote. "If political leaders and military experts determine that the only way to achieve its goal of sustaining quiet is through genocide is it then permissible to achieve those responsible goals?"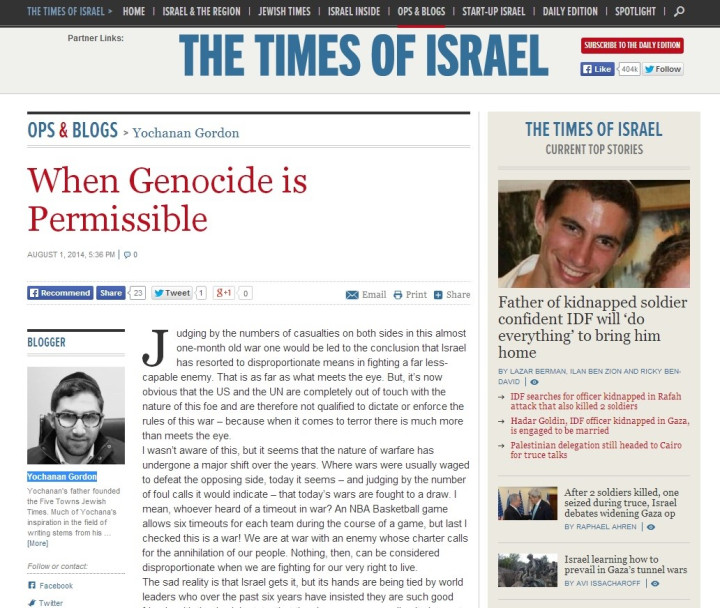 The Times of Israel removed the post shortly afterwards "for editorial reasons" but it can still be read at this link.
As other bloggers pointed out, The Times of Israel does not edit or review pieces before publication.
In his op-ed, Gordon slams the US and the UN for being "completely out of touch with the nature of this foe" and news organisations such as CNN, BBC and Al-Jazeera for pointing out "the majority of innocent civilians who have lost their lives as a result of this war".
The death toll of the 25-day old war is over 1,450 Palestinians, mainly civilians, and 61 Israelis, mainly soldiers. But Gordon claims that the Gazan residents cannot be considered civilians because they live "with rocket launchers installed or terror tunnels burrowed in or around the vicinity of their home".
Gordon's op-ed came as the 72-hour humanitarian ceasefire between Israel and Hamas collapsed, as Israeli forces launched a manhunt for soldier Hadar Goldin who has been captured by militants.
Netizens reacted with anger at what appeared as an open call for killing all Palestinians in Gaza: