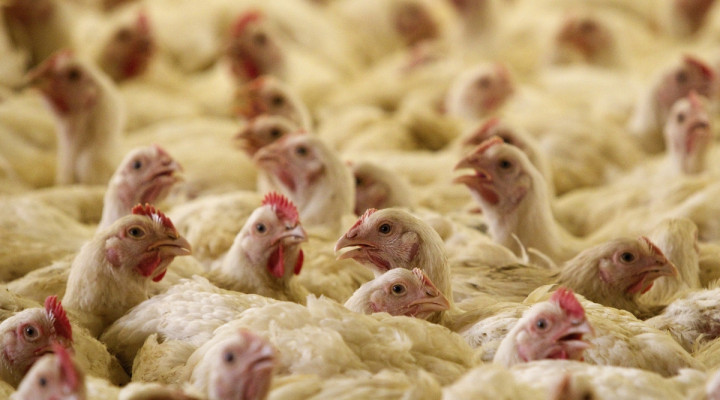 The UK Food Standards Agency (FSA) found in a study that 70% chicken sold in the country contains campylobacter – the biggest cause of food poisoning in the country – and the watchdog named and shamed major supermarkets.
The FSA had earlier published the results from the first two quarters of its year-long survey of campylobacter on fresh chickens. The study also showed 18% of chickens tested positive for campylobacter above the highest level of contamination.
Campylobacter, though being killed thorough cooking, is a bug primarily sourced from poultry and the most common form of food poisoning in the UK, affecting an estimated 280,000 people a year.
The FSA noted that none of the retailers are meeting the end-of-production target for reducing campylobacter.
Retailer Asda had 78% of samples positive for campylobacter, with 28% being above the highest level of contamination. Asda is the only main retailer which has a higher incidence of chicken that is contaminated by campylobacter at the highest level, compared to the industry average, the FSA noted.
The Co-operative and Marks and Spencer had 73% and 67% of their samples, respectively, tested positive. The survey takes into account a 95% confidence interval.
Other retailers named by the watchdog are Morrison's, Sainsbury's, Tesco and Waitrose.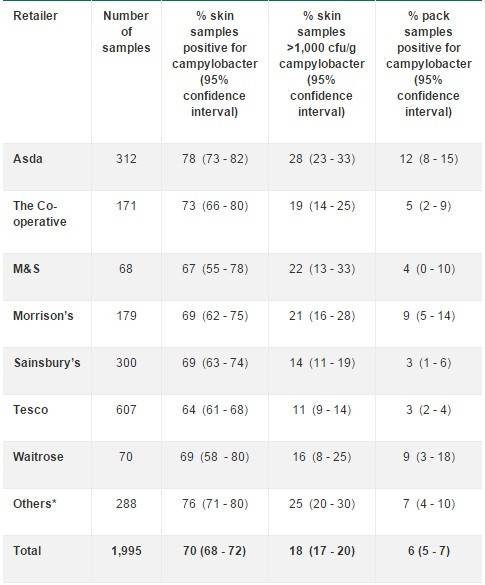 "These results show that the food industry, especially retailers, need to do more to reduce the amount of campylobacter on fresh chickens," said Steve Wearne, FSA director of policy.
"Although we are only half-way through the survey, 18% of birds tested had campylobacter over 1,000 cfu/g, the highest level of contamination, and more than 70% of birds had some campylobacter on them. This shows there is a long way to go before consumers are protected from this bug."
Wearne also commended the efforts by some retailers to step up to their responsibilities and address the bug issue. They include Marks & Spencer, Asda and Moy Park's.