Screens, screens everywhere. The glass is always glaring and the data is always flowing. Sounds scary doesn't it? But get used to the idea because apparently this dystopian nightmare is the future of the world of work.
According to poll for Samsung by Ovum Analysts, up to 78% of people use their own devices for work. The firm's research also revealed that the end of the traditional nine to five workday could be over as more than four in 10 (42%) of respondents strongly agreed with the idea of being able to access work emails and apps outside of official working hours.
This brave new world of endless information and devices means there are screens of all shapes and sizes in, and outside of, the office. At least, according to Samsung's mock-up workspace of the future.
In stifling heat in a make-shift blue neon clad bunker, this reporter and other press colleagues were shown around a display room reminiscent of a science fiction flick full of gadgetry – think Terry Gilliam's Brazil or Tom Cruise's Minority Report.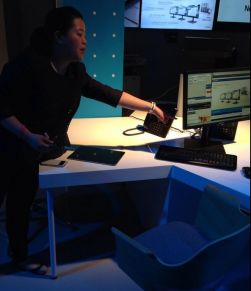 Thanks to some of the new, fancy-pants innovations you can move your computer screen, with the desired applications and programmes on, to a tablet device. Or so we were told. Because, when it came down to a demonstration of such IT sorcery, good 'ol human error thwarted our chance to see it in action.
Imagine: If only the Terminator's creator had password problems, as we had witnessed, Sarah Conor's life would've have been drabber. She would've been most probably stuck in her dead-end waitressing gig because a hapless boffin at Cyberdyne Systems kept typing "123456", instead of "12345678", into Schwarzenegger's log-in screen. Anyway, I digress.
One of the most surprising things from Samsung's research is that workers welcome the flexibility (so much for switching off then) and, jibes aside, this new technology could be a real boost for businesses.
At a time when the UK's productivity is slumping, firms can harness connectivity to help make bigger profits. This also links to the Transport Secretary's latest pledge - free wifi for train commuters. It seems the future lines between the digital and physical workplace will be a lot fuzzier.