Do not be surprised if your child one day has a friend called Khaleesi, Arya, Sansa or Tyrion. Oliver and Amelia may remain the UK's most popular baby names but there is a rising cohort of children whose parents were inspired by popular television series Game Of Thrones when picking their name.
In the UK, the launch of the HBO series' fifth season in April attracted a record 1.57 million viewers for Sky Atlantic. The past year has likewise seen a sharp increase in the number of parents naming their children after the show's popular characters.
According to data on baby names released by the UK's Office for National Statistics on 17 August, Theon and Tyrion — after the show's Theon Greyjoy and Tyrion Lannister — are on the up, with 18 and 17 babies respectively named after the characters in 2014.
However, Arya (inspired by the rough and tumble Arya Stark) is the most popular of the Game Of Thrones baby names, with 244 girls named after her in the UK in 2014.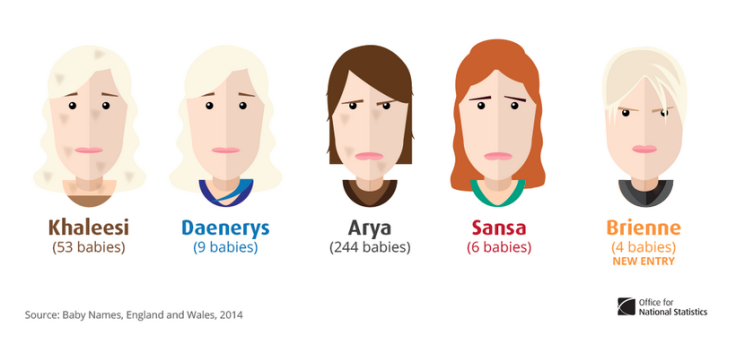 Other rising names boosted by popular culture include Benedict (after actor Benedict Cumberbatch), Logan (inspired by Marvel superhero Wolverine) and Elsa after the Disney heroine from hit film Frozen.
Tried-and-tested names remain the most popular. There were 6,649 Olivers born in 2014 and 5,327 Amelias. In total, there were 695,233 live births in England and Wales last year and 27,000 different boys' and 35,000 different girls' names recorded. The top 10 names for each gender are just 12% of all baby names.
The biggest riser in the top 10 boys' names was George, which rose three spots to number seven, likely inspired by two-year-old Prince George. On the girls' side, Lily gained the most, rising three points to enter the top 10 in ninth place.
Thea, Darcie, Lottie, Harper, Nancy and Robyn all entered the top 100 names for girls. Similarly, Ellis, Joey and Jackson entered the top 100 for boys.