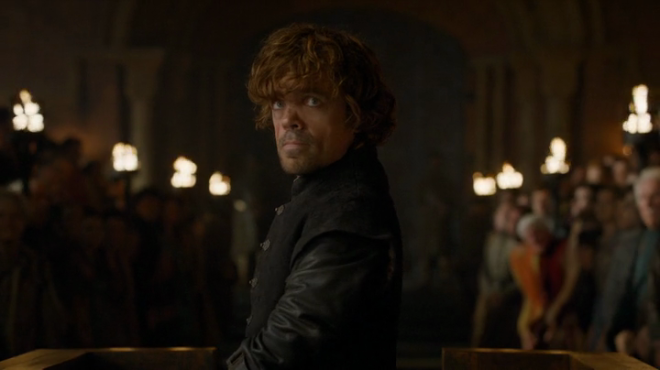 Game of Thrones Season 4 Episode 7 titled Mockingbird airs tonight (18 May) on HBO. Will it reveal the outcome of Tyrion Lannister's demand for trial-by-combat?
Here's a preview of the upcoming episode (via Entertainment Focus).
The GoT Mockingbird preview video (below) shows Tyrion locked back in his cell followed by a conversation with a frustrated Jaime. In last week's episode, it looked like the sharp Lannister faced death for sure with seemingly everyone in King's Landing against him.
However his demand for a trial by combat has saved him before and it just might work again. Actor Peter Dinklage, in a recent interview, hinted at Tyrion's survival.
Also, the massive and brutal Gregor Clegane returns to King's Landing in 'Mockingbird'. The other Clegane brother also makes an appearance, evidently coping with the newly-decreed price on his head, reports Hypable.
Daario Naharis is shown chatting with a gorgeous-looking Daenerys (see image below) and looks like his efforts to impress her continue. In the preview clip we hear him offer to kill her enemies no matter who or where they are.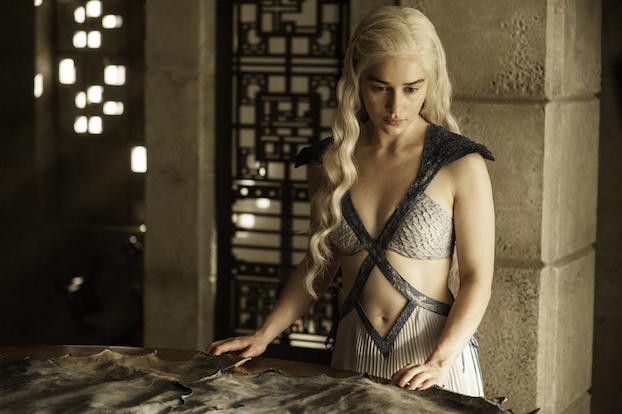 The Hound and Arya Stark may have run out of luck as it looks like they have been tracked down. It was just a matter of time after Tywin was given the news about The Hound.
Sansa Stark's woes seem never-ending as she faces the unpleasant side of her crazy aunt Lysa. In the preview video, Lysa seems crazier than ever. Wonder if that's the Moon Door she's trying to throw Sansa out of.
The seventh episode of the season is written by showrunners David Benioff and D B Weiss with Alik Sakharov as director.
Game of Thrones Season 4, episode 7 'Mockingbird', will be airing Sunday, May 18, at 9 pm ET on HBO, or alternatively can be watched online through live stream with HBO Go and HBO Connect.
The link to HBO Go can be accessed by clicking here.
In the UK, the episode will be available live with a NOW TV Entertainment Month Pass.