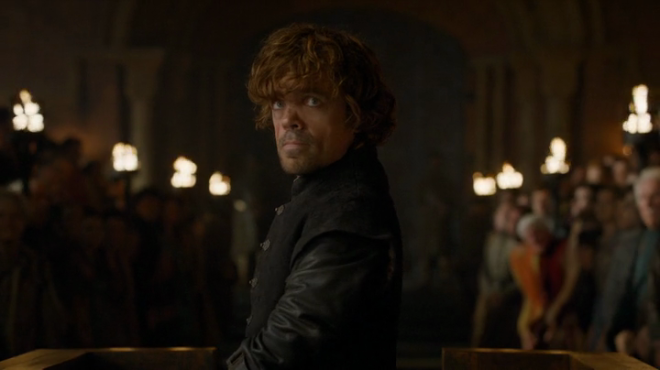 Tyrion Lannister (Peter Dinklage) has a knack for getting into trouble and his latest situation is a lot more serious than all his previous death-defying moments.
The youngest and possibly the coolest of the lot, Lannister finds his life hangs in the balance in this week's episode of Game of Thrones Season 4, titled Mockingbird.
What will be the outcome of Tyrion's demand for trial-by-combat? Should fans prepare for another major death in the series' upcoming episodes?
Offering clues on his character's future, Dinklage recently discussed the concept of justice in King's Landing while speaking to the LA Times.
"I don't think anything's fair in King's Landing, is it," said Dinklage, who has won both an Emmy Award and a Golden Globe for his role as Tyrion on GoT.
The actor went on to cite Tyrion's vicious sister, Cersei (Lena Headey), as well as his hateful father, Tywin (Charles Dance), who want him dead, reports The Christian Post.
However, Dinklage also pointed out his character's survival skills, hinting that fans can look forward to a future with the beloved character in it.
"He's the fall guy in this situation, isn't he," Dinklage reasoned. "They just wanted to make it all easy and make me go away, but I think Tyrion is quite a survivor. Hopefully he will find a way. I hope so, because I like my job... It's great fun. Since I've joined 'Game of Thrones,' it's been such a pleasure."
Also, in the promo of the upcoming episode, the sharp Lannister appears confident about the impending trial-by-combat, despite his brother Jaime's doubt and rage.
"You threw your life away, you threw it away," Jaime scolds his jailed brother in the clip, to which Tyrion replies:
"Don't give up on me just yet."
Game of Thrones Season 4 Episode 7 titled 'Mockingbird' airs on HBO Sunday, 18 May, at 9 pm EST.