Game of Thrones season 5 will have a controversial scene featuring Sophie Turner's character Sansa Stark.
In a red carpet interview at the British Independent Film Awards, Turner told a reporter about her favourite scene from the upcoming season.
"There was one scene that I did do which was super, super traumatic, and I love doing those scenes," Turner said.
"It was just really kind of horrible for everyone to be on set and watch."
Besides hinting at the "darker direction" the new season will take, Turner didn't reveal anything more about the scene.
In Season 4, Sansa ditched her husband Tyrion Lynnister, fled King's Landing with Petyr Baelish (aka Littlefinger) and arrived at her Aunt Lysa Arryn's castle, at The Eyrie. The season finale episode showed Petyr Baelish kissing Sansa Stark and killing her aunt Lysa Arryn.
There are several fan theories on the intense scene that Turner teased.
Will Petyr Baelish rape Sansa?
Fans are speculating that Baelish's creepy obsession with Sansa might end up in him forcing himself on her. When we last left off with Littlefinger in season 4, he had given Sansa a creepy kiss and then killed Lysa. His over protectiveness when it comes to Sansa, besides helping her flee from Kings Landing and plotting against her husband, Tyrion Lannister, all seem to suggest that a forced sexual encounter is on the cards for his character.
Will Sansa kill Littlefinger?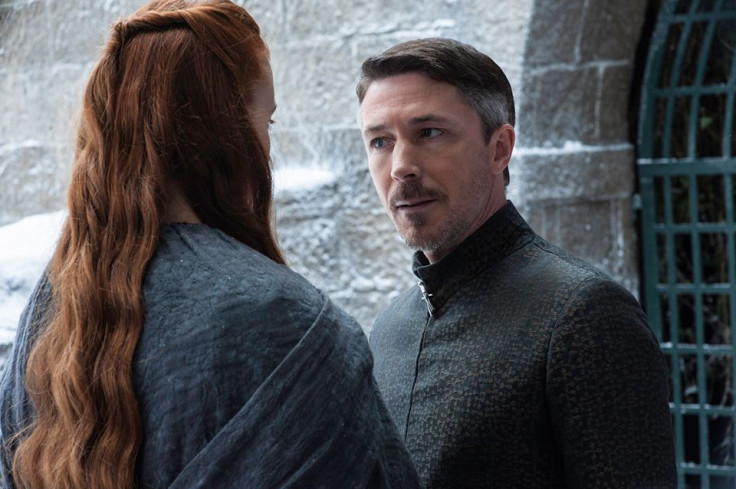 The second fan theory suggests that Sansa could kill Littlefinger, possibly after he attempts to rape her. Another suggestion is that Sansa could use her powers of seduction to kill him, as Redditor Eitjr suggests. A third reason for Sansa to kill Littlefinger is her finding out the truth about how he betrayed her father in season 1.
Previously, Turner said that her character's storyline will diverge in Season 5.
The 18-year-old actress said, "Game of Thrones is so unpredictable and it was a big surprise what is happening to her this season."
"I am so excited because it gives me the opportunity to work with new people and it goes in a completely different direction. I think the fans will really like where her storyline is going this season."
In the book A Feast For Crows, Sansa and Littlefinger continue to work together in the aftermath of Lysa Arryn's death.
Turner admitted that she stopped reading after George RR Martin's A Song of Ice and Fire novels because of the way the show differed from them.
"I kind-of read the Game of Thrones books as the seasons went on. But now that the storyline and scripts are kind of going away from the books, I decided I'm just going to read the scripts so I don't get confused and read the books later," she noted.
Game of Thrones season 5 will return in spring 2015.