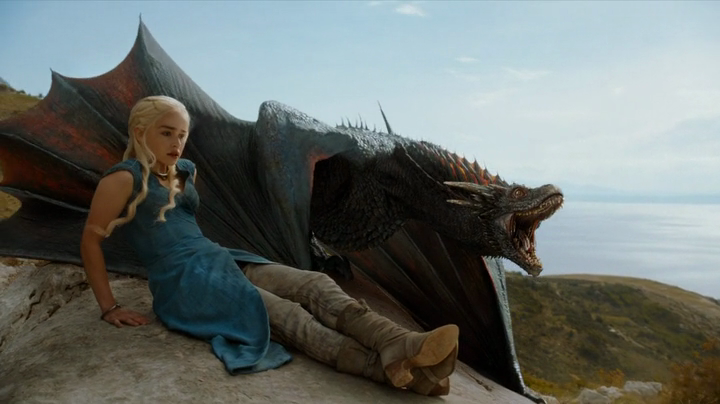 Game of Thrones' Season 5 premiere date is still months away but that doesn't stop fans from speculating about the upcoming season of HBO's blockbuster fantasy series.
A new set of pictures and a video that leaked from the sets of the popular series suggest that Daenerys' dragons have all grown up and can now roast humans simply by spewing fire from their mouths.
The on-set images also reveal that the mother of the dragons is preparing to get married to a royal member of the slave city of Meereen.
There are speculations that the upcoming season of the fantasy series will follow George R R Martin's yet-to-be-finished novel from the A Song Of Ice And Fire series.
The leaked pictures are strong proof that the earlier rumours about Dany marrying under pressure may come true.
In Season 4 Daenerys captured the slave city and ruled longer than usual while her dragon children grew up to become errant and spoiled as they started destroying cattle herds and farms of the city's people.
The Khaleesi feels the pinch of monarchy as the people of her city start revolting against her and this is when Hizdahr zo Loraq, comes into the picture proposing marriage.
Going by the leaked picture, it appears she will marry, or at least there is another marriage twist in GOT Season 5.
#GameOfThrones Season 5 will be so sick with Tyrion now in Meereen pic.twitter.com/iXkhIeHw0q

— Joey Lewin (@joeylewin) November 3, 2014
New video from Daznak's Pit shows return of Major Character http://t.co/t6sjcEpeRu … #GameofThrones pic.twitter.com/8t9lZtm4er — Winter is Coming (@WiCnet) November 4, 2014
We've got new spoilery pics from the Season 5 filming of Daznak's Pit. http://t.co/X10Zv1UeGX #GameOfThrones pic.twitter.com/E67CfUsFDp

— Winter is Coming (@WiCnet) November 2, 2014
daznak's pit pic.twitter.com/wgz3Ah1Xns — Aegon VI (@jmab35) October 31, 2014
The leaked video shows Khaleesi's dragons literally roasting a group of people probably during the marriage ceremony.
There are reports that Daenerys may abandon Meereen and fly to Dothraki Sea with her dragon child.
Click here to view more pictures from the Meereen city wedding and here to view the leaked video.
The fan posted pictures also reveal that Tyrion will meet the dragon mother sooner than fans can imagine as he was spotted as the most unlikely guest at the wedding.
Will he be able to save the Khaleesi from the forced wedding? How will the two plan their revenge against the Westros?
All questions will be answered when the show premieres in 2015.