Warning: This post contains Game of Thrones Season 5 finale spoilers.
Jon Snow's tragic demise in the season 5 finale of Game of Thrones left many fans hoping that the beloved character might return somehow in the next season.
Harington, who plays Jon Snow, himself confirmed that his character is indeed dead, however the actor did add, "If anything in the future is not like that, then I don't know about it – it's only in David and Dan [showrunners David Benioff and DB Weiss] and George's [George RR Martin] heads."
So, another way of saying it is, you know nothing Kit Harington.
As the filming date for the show's season 6 draws closer – several hints are surfacing indicating that Jon Snow might still be a part of the popular fantasy drama.
Harington recently got fans buzzing about the fate of Jon Snow after attending a Wimbledon tennis match on Thursday sporting Snow's signature long locks and stubble.
"With Game of Thrones scheduled to begin filming Season 6 in just a couple of weeks, Harington's hair is once again causing a stir among the show's fans who hope his character will continue to have a role in the fantasy saga," states Daily News.
Kit Harington at Wimbledon today, still with his luscious locks #itsasign #GoT pic.twitter.com/jSJuN4yj6O

— Rachel West (@RachWest) July 2, 2015
Kit Harrington at Wimbledon I still have hope Jon snow is alive because the hair is still on point pic.twitter.com/v6LC5Gg6p9

— Abbey (@abbeylou97) July 2, 2015
That's not all, Game of Thrones fansite Watchers on the Wall posted tweets about cast sightings in Belfast where filming for season 6 is expected to start by mid-July. Wonder what Harington is doing there?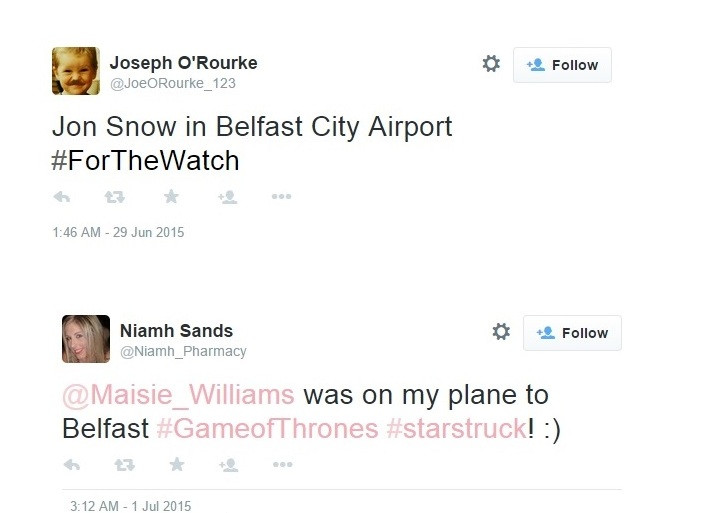 Also, during a recent interview with MTV News, Emilia Clarke, who plays Daenerys Targaryen on the show, revealed there's hope that the young Lord Commander of the Night's Watch will return.
"I mean, if I had to bet, I'd say there's a 50/50 chance. I mean, there's some helpful people there who could bring him back to life," Clarke said teasing the theory that the Red Priestess Melisandre (who's also got the hots for Snow) might be instrumental in bringing Jon back to life.
Actress Carice Van Houten who plays Melisandre, also hinted in an interview with The New Daily that something "spectacular" will happen on the show when it returns next year.
"You've seen her clock Jon Snow, which is a great ending because you think, 'Uh oh, what's going to happen there?'" Van Houten said of her character's appearance in the season 5 finale. "You feel that she is concentrating more and more towards Jon Snow… there are slight hints that something's going to happen," she teased.
For his part, Harington remains staunch in his insistence that "I'm not coming back next season." But the actor doesn't mention anything about not returning for Season 7.
Game of Thrones season 6 is expected to premiere in April 2016.