Game Of Thrones season 7 will only be aired next year, but until then fans have been coming up with numerous speculations about the characters, their alliances, past schemes, and possible battles in the future. While the season 6 finale set the stage for the final climax, fans have been looking back at older seasons to predict the way forward.
Lady Olenna Tyrell, has emerged as a force to reckon with, especially after her tragic loss in season 6 episode 10. However, she was recognised as a sharp woman right from the start. In episode 4 of season 3, she made a keen observation regarding Lord Varys, who could be a possible game-changer in the upcoming season.
As soon as Lady Ollena saw Lord Varys approaching her in the garden in the episode, referring to him she commented, "Look, little loves. A spider in the garden. Run along, now. Grow strong."
Later, she took a walk with Varys to discuss Sansa Stark's prospects, during which she infamously noted, "I know the walls have ears, but apparently the shrubbery does, too."
So far, the crafty member of the former Small Council has been involved in several decisions and alliances, but fans of the HBO fantasy show have come to believe that there is more to the character than meets the eye.
A fan theory posted on Reddit's A Reddit of Ice and Fire page claims that Varys – played by Conleth Hill – is not just a scheming spymaster, but a person of foresight, who could have predicted the course of events and planned the fate of a certain dwarf – Tyrion Lannister.
Explaining his theory, the user recalls season 4, when Tyrion was being tried for King Joffrey's murder, and how against all probabilities, Varys testified against the dwarf. According to this fan, it was the disguise master's plan all along, to make Lord Tywin's younger son "look guilty" so that when he was sentenced, Varys could help him escape.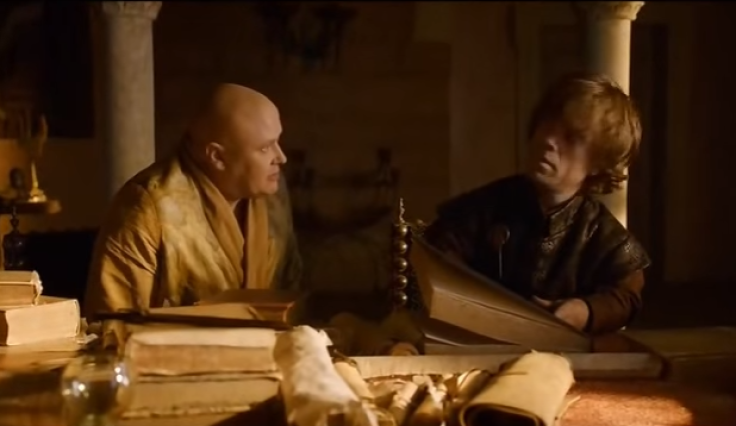 Ultimately, he wanted Tyrion – who was now forced to hide in exile – to end up with Queen Daenerys Targaryen. By the end of season 6, fans saw the Mother of Dragons forming quite a bond with her trustworthy advisor, as she made Tyrion the Hand Of The Queen.
The Reddit user's theory also goes on to elaborate other plans and strategies of Varys. "He conspired with Illyrio to get Daenerys married to Khal Drogo. Varys conspired with Jorah from the beginning," the theory notes.
Although Game Of Thrones season 6 managed to confirm one major fan theory – that Jon Snow is the offspring of Lyanna Stark and Rhaegar Targaryen – ever since then, fans have been churning out more predictions for season 7. Could this prediction about Lord Varys mean anything for the alliances that he has been instrumental in making and what effect will it have on the forthcoming battle?
How do you think will season 7 unfold? If you have another theory altogether, do share it in our comments section below.