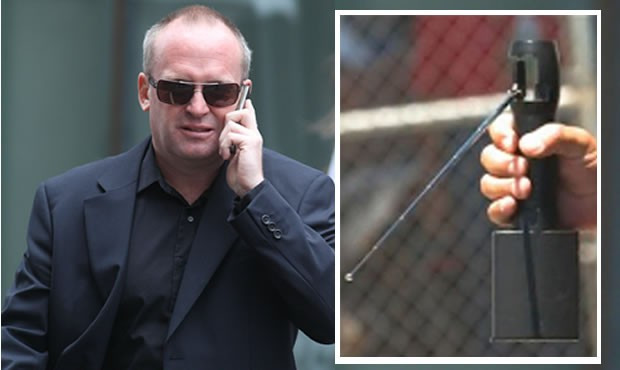 A Chatham businessman falsified Ministry of Defence documents to sell fake bomb detectors worth £45 million to buyers in Saudi Arabia, Hong Kong, Indonesia, Thailand and Mexico, a court heard.
Gary Bolton, 47, sold the "completely ineffectual" devices at £10,000 each, despite knowing them to be useless, the Old Bailey was told.
The so-called "GT200" devices, codenamed The Mole, turned out to be nothing more than empty boxes with handles and antennae.
They had been assembled by Bolton at his home in Chatham, Kent, and at his company Global Technology Ltd, which had a turnover of £3m.
Bolton denies two charges of fraud.
He told his clients that the hand-held devices worked within a range of 700 metres at ground level and up to 4km in the air, the court heard.
Bolton also claimed the devices could detect drugs, tobacco, ivory and cash, and were effective through water, earth, lead-lined and metal walls.
But tests conducted in 2001 showed the device had a detection rate of only 9%. Bolton had been informed of these findings, the jury heard, but continued to market his product as "the most reliable and advanced of its type".
In 2010, a Home Office defence expert found Bolton's device had no functioning parts, and therefore had "no credibility as an explosive detector".
Richard Whittam QC, prosecuting, said one company, British American Tobacco, had x-rayed the device after buying one for £11,000. Fearing it was ineffective, BAT carried out an x-ray on the device, only to find the box empty.
"Despite the fact that the prosecution alleges that they do not work, people did buy them, and he could get that turnover, and his company could make a considerable amount of money," Whittam told the court.
Bolton had admitted to officers from the City of London Police that he had made the devices himself, said Whittam. Component parts for the GT200 equipment had been found at the company's offices near Ashford.
Further tests carried out by Dr Michael Sutherland of the University of Cambridge found the device worked successfully only twice in 24 tests when searching for TNT. That worked out as less than the probability of finding explosives at random, the court heard.
Dr Sutherland said the device was "completely ineffectual as a piece of detection equipment".
"The operating principle of the GT200 device lacks any grounding in science. I cannot see how it can work in accordance to the known laws of physics," Dr Sutherland wrote.
"Carefully executed field trials of the device showed that it offered no advantage in detecting explosives over random chance."
In 1999 Bolton approached the Royal Engineers Exports Support Team (Reest), to produce a report on the Mole. The report found the device was accurate only around 30% of the time, and could not be relied on.
Reest made clear its report was not "an endorsement from the British Government, the Defence Export Services Organisation, or the Engineer in Chief of the Royal Engineers".
Yet two "letters of recommendation" from Reest, dated June 2003, were later found at Bolton's offices, the court heard.
They referred to the GT200 which went on sale in 2004 and which the engineers had never tested.
Whittam told the jury: "You will have to consider whether Bolton continued to promote it despite receiving several reports saying it was unreliable and ineffective."
In May, fraudster James McCormick was jailed for 10 years for selling £50m worth of fake bomb detectors to countries including Iraq. Sentencing McCormick, Judge Richard Hone called his scam a "callous confidence trick".
.