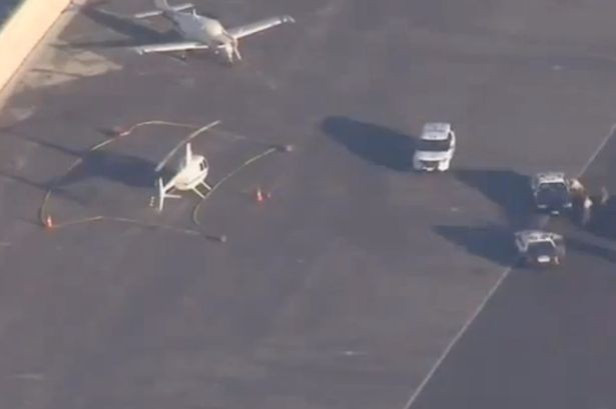 A man plunged to his death from a helicopter in an apparent dramatic suicide.
Gary McFadden fell hundreds of feet in to the Pacific Ocean when he forced open the door of a hired chopper during an air tour of the Orange County coastline in California.
According to the pilot of the craft, the 61-year-old asked to get nearer to the rocky coastline around Newport Beach and then threw himself in to the air, plummeting 750 feet.
He was hauled from the water by shocked witnesses but died of his injuries soon afterward.
Investigators were trying to establish if McFadden did mean commit suicide.
The father of pilot Corbin Street claimed McFadden had booked a scenic tour for two people, but had turned up by himself. Chuck Street said: "During the flight he kept asking to go higher and higher and "an you fly right here along the shore?"
"My son was starting to get suspicious. When they got towards the Balboa Pier, he started to take his seat belt off and he started to open the door.
"My son said, 'what are you doing, what are you doing?'
"The guy started to struggle, the aircraft kind of pitched up ... my son had his hand on his shirt, his shirt ripped and the guy just went out the door.
"He could have taken my son with him," Street told the broadcaster KCAL-TV.