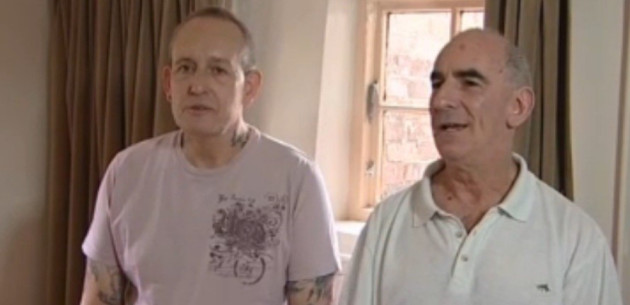 A gay couple who were refused entry to a Christian-owned bed and breakfast have won their discrimination case.
Michael Black, 64, and John Morgan, 58, had booked a double room at the Swiss Bed and Breakfast in Cookham, Berkshire via email.
But when they arrived at the B&B, owner Susanne Wilkinson refused to give them the room on the grounds that it violated her religious beliefs, despite the couple having already paid a deposit.
Black and Morgan, from Brampton, Cambridgeshire, were each awarded £1,800 in damages after a recorder at Reading county court declared that the refusal amounted to a direct discrimination and a breach of equality law.
Claire Moulder ordered Wilkinson to pay the damages as she had treated the gay couple "less favourably than she would treat unmarried heterosexual couples in the same circumstances".
In a statement, Wilkinson described her disappointment at the ruling. Her defence argued that she was entitled to refuse double rooms to not only gay couples, but also to couples who were not married or in a civil partnership - something she has done before.
Wilkinson said: "Naturally, my husband and I are disappointed to have lost the case and to have been ordered to pay £3,600 in damages for injury to feelings.
"We have the option to appeal and we will give that serious consideration. We believe a person should be free to act upon their sincere beliefs about marriage under their own roof without living in fear of the law. Equality laws have gone too far when they start to intrude into a family home."
Double bed
James Dingemans QC, for Wilkinson, told the court: "If Mrs Wilkinson had simply said, 'don't come in because you're gay', that could never be justified.
"It was simply the provision of the double bed which Mrs Wilkinson believed was wrong."
Wilkinson also revealed how she and her husband Mike were subjected to two years of threats and abuse following the incident.
James Welch, legal director of Liberty, welcomed the court decision. He said: "Liberty defends the rights of religious groups to manifest their beliefs, even when we disagree with them.
"It is simply unacceptable for people running a business to refuse to provide a service because of someone's sexual orientation.
"Hopefully, today's ruling signals the death knell of such 'no gays' policies - policies that would never be tolerated if they referred to a person's race, gender or religion."
Stonewall chief executive Ben Summerskill said: "This judgment vindicates Stonewall's hard work to make sure businesses can't turn people away simply because they happen to be gay.
"It's a shame tens of thousands of pounds have been wasted reiterating this well-established principle, when any good Christian would surely prefer to have seen that money spent on relieving poverty or tackling hunger."
Civil partners Martin Hall and Steven Preddy also managed to successfully sue hotel owners Peter and Hazelmary Bull for £1,800 each after being refused a double room in their guesthouse in Cornwall in January 2011.