Gay-icon celebrities including Stephen Fry and Benedict Cumberbatch have called on London Mayor Boris Johnson to "save Soho".
The plea follows recent news that popular drag and cabaret venue Madame JoJo's has become the latest club to close its doors last month, in a major blow to the capital's gay scene.
Documents released by Westminster Council report that a violent attack took place outside the venue on October 24. During the incident, security allegedly engaged in "violent conduct" involving wooden baseball bats and pinned a man against a wall while a taxi driver punched him.
Madame JoJo's had its license revoked as a result of the incident, and its appeal against the decision was rejected.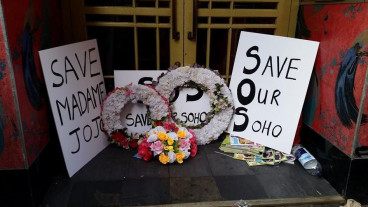 Celebrities this week signed an open letter from Tim Arnold, a campaigner for the preservation of Soho, calling on the Mayor to pledge support for the area's night life and prevent any further closures.
Signatories include Idris Elba, Stephen Fry, Benedict Cumberbatch, Paul O'Grady, Shane Richie and comedian Eddie Izzard. Musicians Pete Townshend and Roger Daltrey also pledged their names to the cause.
The open letter reads: "My concern is that the end of Madame JoJo's will lead to the closure of other such establishments, which will limit young artists' chances to showcase their talents, ultimately affecting the British music industry.
"As a resident, I believe Soho's enduring attraction as a global destination has always depended on building around and adding to what has gone before, not by demolishing it, and I hope readers will support me in this.
"I also hope that Boris Johnson will become involved in protecting Soho's future. In the mean time we hope that the developers will be sympathetic to our request for one final show at the club."