Gaza-Israel Crisis: Attacks on British Jews Rocket amid Terrorism Warning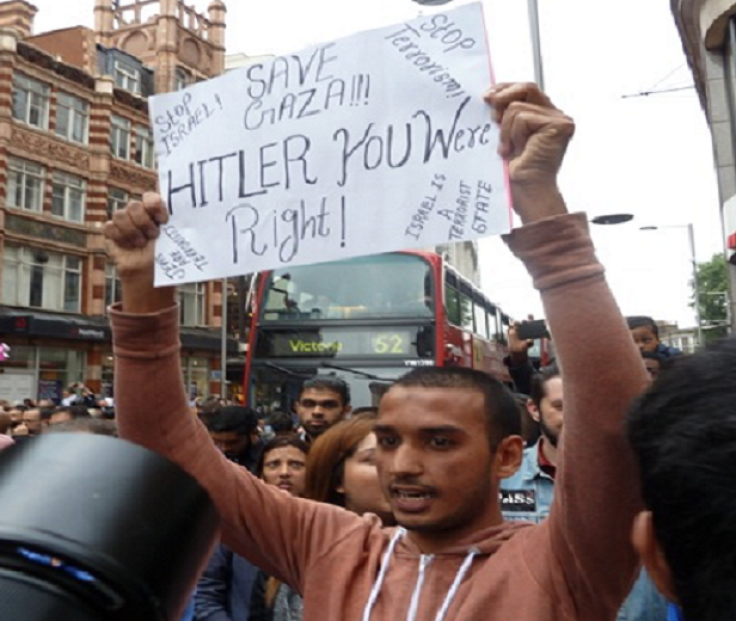 The number of attacks on Jewish people on the streets of Britain has shot up since fighting broke out between Israel and Hamas.
Anti-Semitic incidents have rocketed by more than 100% since the beginning of July, painting a worrying picture of violence against the UK's 300,000-strong Jewish community.
The spike in anti-Semitic incidents in the UK correlates with the outbreak of violence in the Middle East, which has seen the Israeli military pound Gaza with airstrikes, followed by military invasion, and Hamas launch hundreds of rockets towards the Jewish state.
The community has now stepped up security at synagogues and communal buildings amid fears of imminent "terrorist attacks", in retaliation for the perceived brutality of the Israeli assault on Gaza.
In central London last weekend a pro-Israel demonstrator was beaten unconscious by attackers during a pro-Palestine demonstration in Whitehall, according to the Community Security Trust (CST), the body that monitors anti-semitic activity in the UK.
Police made one arrest at the event, which saw placards featuring anti-Semitic slogans including "Hitler was right.'
At the same march, a Jewish woman reported her phone was stolen and she was called a "Jew Zionist." The CST reported a mother with two children was also told to "burn in hell."
Meanwhile, the Guardian writer Eva Wiseman tweeted that when her parents left her London home after a recent visit, a group of men shouted abuse at the couple including "we hate Jews."
The number of anti-Semitic incidents in Britain this month stands at more than 70 – double the average.
Mark Gardner of the CST called the incidents "racist and stupid", and told IBTimes UK that efforts were afoot to quell mounting fears about safety in communities across Britain.
"There's an on-going possibility of terrorist attacks against Jewish communities" Gardner said.
"The Trust has a well-developed security network and at a time like this we get in touch with every communal location, and security companies which are employed at schools and synagogues.
"We are in daily contact with the police and other agencies. Security will be rigorously implemented and if any of these places need us then we will be there.
"There's a certain weary understanding that this is what occurs but we do not accept it is legitimate. It's racist, violent and very, very stupid. It imports the conflict from overseas."
IBTimes UK contacted the organisers of last weekend's pro-Palestine march in central London.
A spokesman for the Palestine Solidarity Campaign condemned incidents of anti-semitism, saying: "Any expressions of racism or intolerance have no place in our movement. We oppose all forms of racism, including anti-Semitism, Islamophobia, and the racism suffered by Palestinians at the hands of the Israeli state.
"Racism has been used to justify the indefensible – and there is no place for racism in our movement, which is based on justice, equality, human rights and peace."
Across Europe there has been a surge in anti-Jewish episodes, linked to the Gaza conflict. Ministers in France, Germany and Italy have condemned the spate of anti-semitic incidents.

France, which is home to Europe's largest Jewish community and Muslim population, has seen the worst of it.
Troublemakers hijacked demonstrations to clash with police and attack kosher stores and synagogues, including several that were firebombed.
© Copyright IBTimes 2023. All rights reserved.