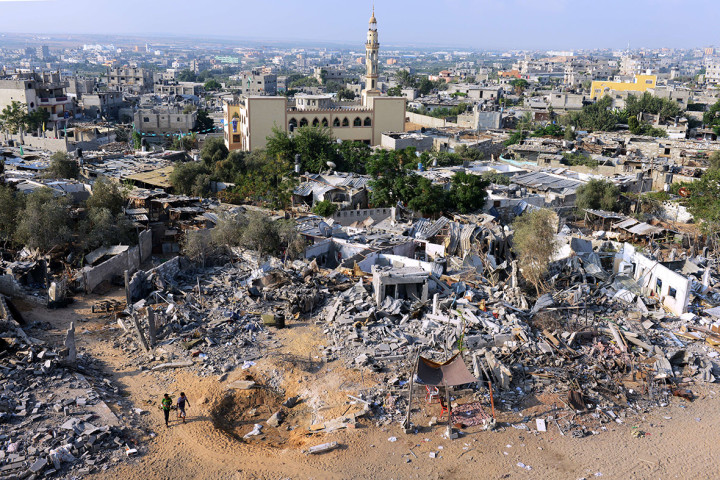 The Jewish Chronicle has been forced to apologise to its readers after it ran a Gaza crisis appeal advert in its paper which left some "angry and upset".
The weekly newspaper published a full page advert promoting the Disasters Emergency Committee (DEC) appeal, which asked for donations towards the "unmet humanitarian need" in Gaza.
Following complaints by some readers, the paper's editor Stephan Pollard has written an editorial to apologise for running the advert, but insisted its presence "is in no way part of our editorial stance".
Readers took to social media to accuse the paper of "putting money directly into Hamas's hands" by running the advert. A second added: "You have lost your [editorial integrity] in the name of commercialism and appeasement."
"I understand why some people are angry and upset and I thought it important to respond," said Pollard.
"This is an advert, and not an expression of the JC's view. We keep editorial coverage entirely separate from our commercial operations.
"As editor, I am not responsible for any ads which appear in the paper. It is a critical part of our editorial independence that we do not allow advertisers to have any influence at all on the paper.
"The ad was approved by the chairman of the JC, who has no involvement in editorial decisions, as an ad for humanitarian aid which nowhere makes political or partisan points."
The advert, which featured in several other national newspapers, was launched by the DEC on 7 August.
DEC chief executive Saleh Saeed said when launching the appeal they are "relying on the generosity of the British people to make a difference in Gaza".
Pollard added: "Both I as editor and the JC are entirely supportive of Operation Protective Edge, as our coverage has demonstrated. Almost alone in the British media the JC has stressed Israel's right to defend herself and sought to explain why Israel was faced with no choice but to take action in Gaza.
"There is, clearly, a humanitarian cost to that action. But I do not accept the figures touted around much of the media about the level of civilian casualties – many are, I am sure, terrorists.
"This is not a JC-backed appeal. We have no involvement in it beyond running an ad, which has appeared in most British newspapers."
Not all JC readers were unhappy with the advert. Cian O Morain wrote on the paper's Facebook page: "Refusing to help someone just because of their race is flat out disgusting and shame on anyone who thinks otherwise. It was a noble appeal and fair play to the JC for doing. It's a shame they're backtracking."
The DEC are an umbrella organisation consisting of 13 British charities, including Christian Aid, Islamic Relief, Oxfam, Save the Children and World Vision.
The group has raised more than £9m for the people of Gaza since the appeal launched.
Saeed added: "As other high profile events in the world draw the cameras elsewhere, media interest in the Gaza crisis has understandably decreased, but we need to keep it on the map. Aid is still very much in urgent need and we encourage people not to forget what is happening there."
The Guardian was also recently condemned for running an advert which called for political leaders "to condemn Hamas' use of children as human shields".