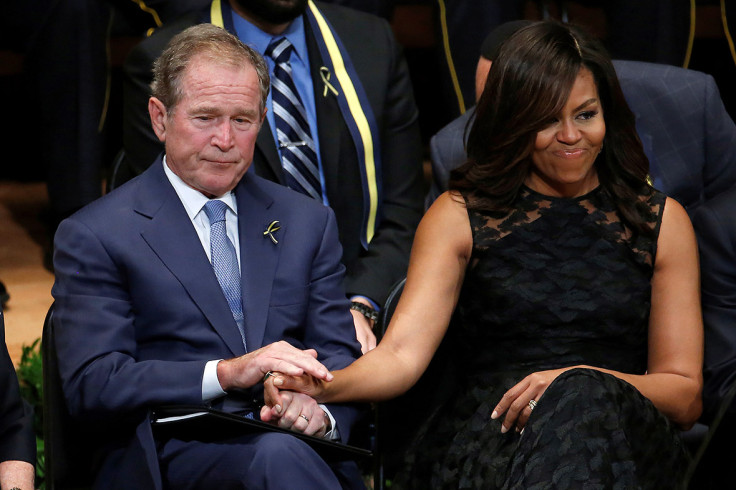 Former President George W Bush has spoken about his friendship with the former First Lady Michelle Obama and the trouble he had putting on a poncho during Donald Trump's inauguration.
The former president shared just what makes his friendship with Obama work during an appearance on the Ellen DeGeneres show. With a photo of the pair embracing at the opening of the National Museum of African American History and Culture in the background, Bush explained, "You know, I'm kind of a needler, and she handles it pretty well".
He added: "That surprised everybody. That's what so weird about society today, that people on opposite sides of the political spectrum could actually like each other." When asked if he shares a similar connection with Michelle's husband, Bush noted that former president Barack Obama does not give him the hugs that Michelle does.
"Well, lets put it this way, he's never given me a hug that way," he said chuckling.
The 43rd president also laughed as DeGeneres asked him about the unyielding poncho at the 20 January inauguration, blaming genetics for his inability to put it on. "The poncho was a problem. Had you put one on?" DeGeneres asked as photos of Bush trying to put the poncho on played in the background.
"Is that the first time?" Bush laughed as he responded, "Yeah, it looks like it. That's for sure."
"It must run in the family because your mom had an issue with the poncho also," DeGeneres continued. Bush jokingly answered it is all in his genetics. As a surprise, DeGeneres gifted Bush a poncho with a peel-off presidential seal.
According to USA Today, the pair also discussed some more serious issues, including Trump's fraught relationship with the media.
"Here is what I believed when I was president, post-president: The nation needs a free and independent press," Bush said. "And the reason why is, is that power can be very corrupting and we need a press corps to hold politicians to account, including me. And yeah, I didn't like it sometimes when people said things about me, but that's the job."
The discussion then went on to Russian President Vladimir Putin, who Bush said was not fond of his Scottish Terrier, Barney. The former president recalled Putin trying to one-up the pup by bringing his own "giant hound". Putin reportedly said to Bush: "Bigger, stronger, and faster than Barney."
"He's [Putin] got a chip on his shoulder," Bush said of the Russian leader. "I had a contentious relationship with him and I think whoever the president is, is going to find out that Putin will push and push and push until somebody stands up to him."