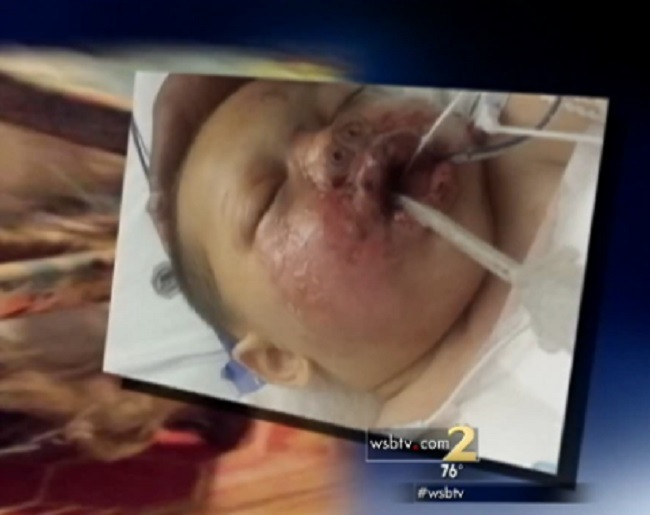 A baby is fighting for his life after a grenade was thrown into his cot during a drug raid in America.
Georgia police sheriff Rick Darby has defended his officers' actions, calling it a tragic accident.
A SWAT team threw a grenade into the cot of the 19-month-old baby which exploded in his face. He now remains in a medically induced coma, with a 50% survival rate, at the burn unit at Grady Memorial Hospital.
Officers mistakenly thought the Habersham County home belonged to meth drug dealer Wanis Thometheva, 30, but the Phonesavanh family and their baby had just moved in.
Darby told WSBTV that "there was nothing to indicate that children were present in the property".
Mother Alecia said: "It's my baby. He's only a baby. He didn't deserve any of this.
"It landed in his playpen and exploded on his pillow right in his face.
"We go up to see him and his whole face is ripped open. He has a big cut on his chest.
"He didn't do anything."
Cornelia police chief Rick Darby said that the raid took place at the home just before 3 am. He said a drugs team issued a warrant and organised the SWAT operation.
Earlier, police said a confidential informant bought drugs from the house, and came back with a no-knock warrant to arrest a man known to have drugs and weapons.
"There was no clothes, no toys, nothing to indicate that there was children present in the home. If there had been then we'd have done something different.
"You're trying to minimise anything that could go wrong and in this case the greatest thing went wrong," Darby said.
Thometheva, 30, of Conelia, was later arrested at another address for supplying meth.