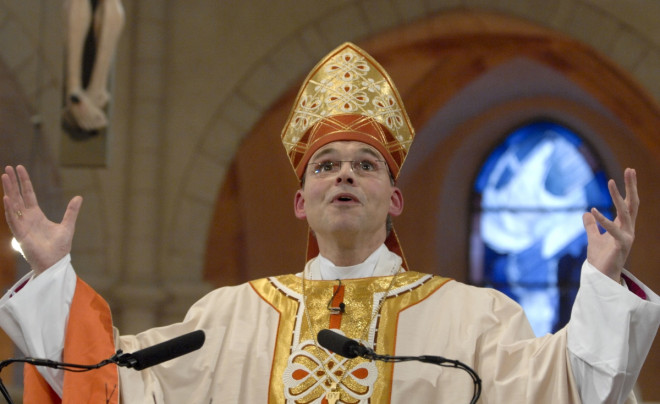 German bishop Franz-Peter Tebartz-van Elst, who recently resigned over his misuse of Church funds, spent £176,000 on a fish tank and over £400,000 solely on doors at his new headquarters, it has been revealed.
The leadership of Germany's Catholic Church published a report into the bishop's exuberant renovation of his headquarters, detailing the price of each fixture.
Pope Francis and the Vatican accepted Elst's resignation after revelations that he had spent £25.7m of Church funds on building his official residence - six times the initially projected £4.6m fund.
The residence included a museum, conference halls, chapel and private apartments in Limburg, Germany.
Tebartz-van Elst admitted that his behaviour in the role was "in many respects a disorderly, unfocused and primarily a personally-driven management position".
He went on to claim that his deputy, Vicar General Franz Kaspar, should have overseen his finances but had not.
As soon as construction began on the residence, he felt he needed to "observe the quality and the durability of the entire project".
"As I am not an authority in the area of church management, as my qualification is in pastoral theory, I have to relinquish the responsibility to Dr Kaspar who was [according to the report into the spending] 'the only person with an overarching view of the seat's assets'," he said.
The "bling bishop" spent the extortionate amount of money after Pope Francis called for more humility within the Catholic Church.
Pope Francis has asked the faithful of the diocese of Limburg to accept the decision "with docility" and to work towards the restoration of a "climate of charity and reconciliation", according to a Vatican statement.
A list of Elst's lavish expenditure:
Fish tank: £176,000.
Hanging an advent wreath: £14,900.
Bronze window frames: £1.43 million
Floors: £169,670
Spiral Staircase: £141,530
Light switches: £16,550
Stone facades: £604,180
Heated stones: £15,730
Furniture and joinery (excluding doors): £950,000
Doors: £405,540
Bathroom: £30,620
Decor and artwork: £970,000
Premium LED lights: £537,960