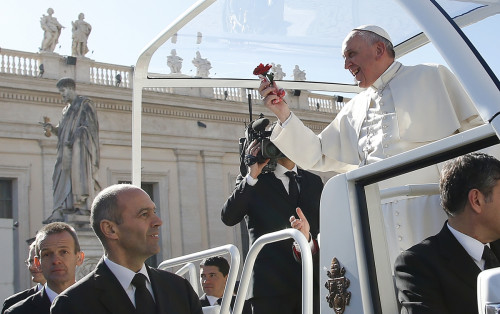 Pope Francis has met thousands of engaged couples at the Vatican on St Valentine's Day.
More than 10,000 couples from 28 countries gathered in St Peter's Square as part of an event in support of marriage named The Joy of Yes Forever.
The Pope Tweeted:
"Love is a soul's true bread," Francis told the crowd.
The meeting was initially scheduled to be held in the Paul VI Audience Hall but was moved to St Peter's Square as the Holy See said it received too many requests of attendance.
"The 'Forever' is not just a matter of duration," the Argentinian pontiff said. "A marriage is successful not only if it lasts, its quality is also important."
"To be together and be able to love each other is the challenge of married Christians," he said.
The pontiff, who has charted a more humble course in the Vatican, also called for wedding ceremonies to be simple and focused on the meaning rather than appearance.
"You should work for it [the wedding] to be a Christian celebration, not a worldly one," Francis told the couples.
"Your wedding should underscore what is really important. Many are more worried about outward appearances: the banquet, the photos, flower and dresses ...
"Such things are important in a party but only if they point at what is the real reason of your happiness: God's blessing upon your love."