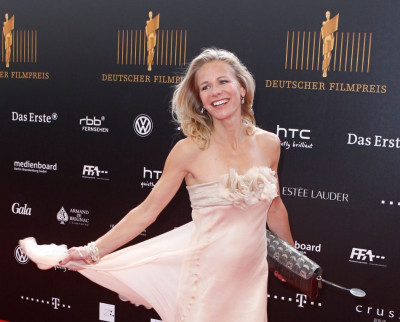 At the 2012 German Film Awards, colloquially known as the Lola, stars and A-listers dressed in glamorous ensembles dazzled the red carpet with their high fashion statements.
Regarded as the highest awards ceremony in the German movie industry, the event is often regarded as Germany's equivalent of the Oscars and the Baftas.
The 2012 event saw many stars looking stunning in the latest beauty trends. From halter-neck gowns to old movie glamour, the stars vied with each other as they paraded the red carpet in Berlin on 27 April, 2012.
Bagging the maximum number of trophies at the 2012 ceremony was a film by Hollywood director Roland Emmerich wherein he portrays William Shakespeare as a fraud. The movie won six trophies.
Reuters reported that the six wins by Anonymous, starring Welsh actor Rhys Ifans and filmed at Berlin's Babelsberg Studios, came mostly in technical categories such as production design, costumes, cinematography and editing.
The best film award was presented to Andreas Dresen's Stopped on Track. The movie also received prizes in three other categories including director, actor and supporting actor. It features the story of a man who is dying from brain tumour and the many struggles he had to face due to this.
According to Deutsche Welle, a drama set in former Communist East Germany, Barbara, went into the evening as favourite, having been nominated for eight awards - but director Christian Petzold had to make do with the silver Lola for best film, just behind Stopped on Track. The third prize in the main category went to David Wnendt's drama about young, female neo-Nazis in eastern Germany, Kriegerin (Combat Girls). The star of the film, 27-year-old Andrea Levshin, won the best actress award.
Presented since 1951, the German Film Awards are regarded as an important element of the German government's policy of supporting the film industry.
Over 1,000 industry professionals who make up the German Film Academy cast votes for the 16 categories. The Lolas are intended to reward cultural achievement rather than box office success, Reuters reported.
Start the slideshow to catch a glimpse of the most stunning red carpet beauties: