Anis Amri, the man responsible for a terrorist attack on a Berlin Christmas market in December 2016, was known to German police who had received a warning about him in the previous March.
It was revealed on Sunday that North Rhine-Westphalia police had presented its state interior ministry with evidence that Amri was planning a suicide attack.
German newspaper Bild am Sonntag reported on Sunday that a confidential letter sent by the state police (LKA) to Dusseldorf cited a conversation Amri had via the Telegram messenger app in which it is reported he used euphemisms to suggest he was planning an attack.
The newspaper published excerpts from a memo from the office of Uwe Jacob, who heads up the North Rhine-Westpahlia LKA.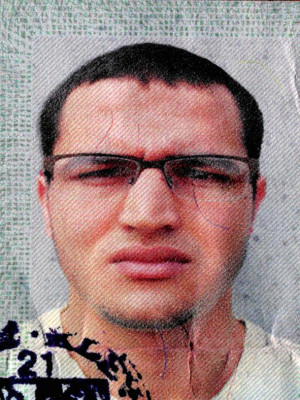 These outlined Amri's messages that he wanted to marry a "sister", which the Telegraph reports is a known code for suicide attacks among Islamist terrorists, followed by another such term "Dougma".
The news comes as the UK's home secretary Amber Rudd spoke out on Sunday against end-to-end encryption after it was suggested Khalid Masood, the man who killed four people in an attack on Westminster on Wednesday, may have used messenger app Whatsapp to exchange information about the attack. It is not yet known, however, that Masood had any such conversations via the app.
Though the LKA's recommendation that Tunisian-born Amri be deported from Germany, this did not happen. Since Amri's application for asylum was being considered, it was decided that deportation would not be lawful.
Mimicking the deadly attack on Bastille day in Nice, in the south of France, which killed 84 people, Amri ploughed a truck into a market in Berlin just days before Christmas last year. The attack intensified growing concerns within the country about immigration.
Sunday's revelation will increase pressure on Chancellor Angela Merkel, who is standing for her fourth term in the top job in Germany's federal elections in September this year. Merkel faces growing competition in far-right group Alternative for Germany (AfD).