German rapper Deso Dogg, who has been dubbed the "Isis Goebbels" due to a series of propaganda videos, survived a US air strike that was thought to have killed him last year, spies in Syria have claimed.
Denis Cuspert earned the nickname after he became the main producer of infamous brutal Islamic State (Isis) videos published online.
After joining Daesh (Isis) in 2012, he went on to appear in numerous videos made by the militant group, including one "in which he appears holding a severed head he claims belongs to a man executed for opposing ISIL (another name for IS)," according to the US State Department.
He was also believed to have been behind the production of the Jihadi John beheading videos in which British and US prisoners were butchered with a knife.
Cuspert was thought to have been a chief recruiter of German fighters heading to their self-declared caliphate in Syria and Iraq.
He had threatened US President Barack Obama and the US and German citizens while urging Western Muslims to carry out IS lone wolf attacks in Europe.
Before becoming one of the biggest-name foreign jihadi fighters in the caliphate, Cuspert was known as Deso Dogg, a rapper from Berlin, who had performed in Berlin's hip-hop clubs. The Pentagon believed they had killed Cuspert after an air strike on the caliphate's de facto capital of Raqqa on 16 October.
But Bernd Palenda, director of the Berlin branch of the Office for the Protection of the Constitution, said the 39-year-old could still be alive. Palenda said in the publication of the Constitutional Protection Report 2015 on Tuesday 14 June that Cuspert was indeed injured in combat operations but may still be alive.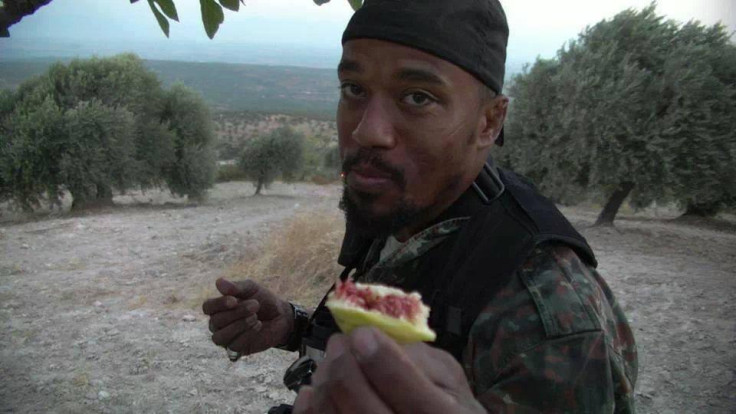 The German press has reported that the militant was being spied on for the FBI by a Syrian woman who was posing as his wife. After relaying important information to the US bureau, she escaped to Turkey where she was arrested and then passed onto US authorities.
In April 2014, rumours surfaced that Cuspert, who later went by the name Abu Talha al-Almani, had been killed in Syria which later proved to be false. He has been listed as an al-Qaeda supporter by the United Nations (UN).