The tragic last texts from schoolchildren who were killed in the Germanwings crash, have been revealed.
The 16 students, who were returning after a week-long exchange trip to a school in Barcelona, had texted friends to say they "couldn't wait to come home," just moments before the aircraft crashed in the French Alps.
The year 10 students from the Josef Konig Gymnasium School were returning from an exchange trip with host families in the village of Llinars del Valles.
Many of the students had sent the poignant messages to friends as they boarded the Airbus A320, saying how much they had missed their families. But just half an hour after taking off from Barcelona, Germanwings Flight FU 9525 crashed in a remote region of the French Alps, killing all 150 people on board.
16-year-old Elena Bless, who was on the ill-fated flight, had messaged her best friend and classmate Philippa, who had opted out of the trip.
"She had been sending me messages on WhatsApp and Snap Chat and had been very happy about the trip. She had had a good time, said Philippa. "She sent me pictures of the group together and the different sights they saw. They looked like they had had fun."
"Quite a few of them were messaging from the plane saying they were on the flight and couldn't wait to come home. They were saying things like "we have brought presents for you",' Philippa said.
"They were excited to be coming home to see their friends and said they had missed their families," she added.
Expressing her dismay at the news of the tragic crash Philippa added: "Elena and our other friends on the trip had planned things to do on their return. I just can't believe they won't be coming back."
She described Bless as a 'happy girl' who dreamed of going to university and travelling the world.
"Elena enjoyed studying Spanish. She was very happy all the time and had a positive character. She wanted to travel the world and go to university. We were excited about them all coming back as they said they had lots of pictures to show us and lots to tell us."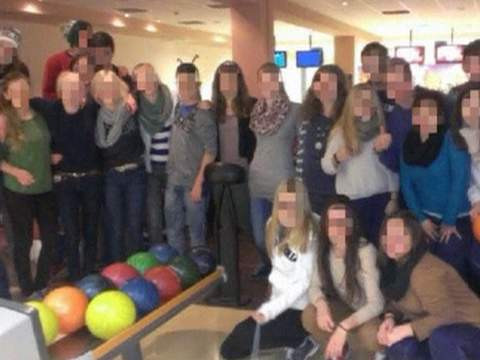 Passengers at Dusseldorf Airport reported hearing the heart-wrenching screams of parents who had been waiting to pick up their children, as they were ushered into a private room and told of the crash.
Describing the traumatic scenes at school as the news of the tragic crash broke, Philippa said: "There was an announcement that the school was closing because of a serious incident. We didn't know what it was. When I went outside I saw people were crying and saying there had been a crash but I didn't believe it. I thought it was a nightmare."
Hundreds of students and residents of the grieving town lit candles and laid flowers at the school in honour of those students and two teachers who lost their lives.
Ulrich Wessel, headteacher of the grammar school, arrived at the school at 3am to prepare to break the news to the students.
He said: "I couldn't sleep at all. All I could think of doing was coming here to write my assembly for the pupils, to try and find the words to explain what happened to their friends.
"Our school will never be the same again," he said.
Tributes are being paid to all the victims of the Germanwings flight as the stories of the 144 passengers and six crew emerge.
Three British victims on the doomed flight were named as 28-year-old Paul Andrew Bramley, Martyn Matthews, 50, and seven-month-old Julian Pracz-Bandres who was travelling with his mother.
Air crash investigators have begun the painstaking task of piecing together what happened, amid reports one of the black box recorders was damaged.