At least nine people have died and at least 40 have been injured in a crash on the A4 autobahn between Poland and Germany near Dresden. The vehicles involved were a Polish coach carrying holidaymakers, a Ukrainian coach and a minibus, also from Poland. One of the buses was said to be from the Sinbad coach company. The crash took place at about 2am local time.
According to police spokesman Lutz Zoellner, the Polish coach is believed to have smashed into the rear of the Ukrainian coach and then skidded through the median of the A4 motorway into the path of the minibus.
German broadcaster MDR reported that seven of those who died were aboard the minibus, but fatalities are also said to have occurred on both coaches. Polish vice-consul in Berlin Michał Bolewski told Polish Radio: "The identity and nationality of victims is not yet precisely known."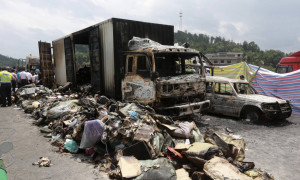 The condition of those injured is unclear but some were seriously hurt and taken to hospitals in Dresden and Radebeul. The autobahn is closed to enable a clean-up operation to take place and police are unable to say when it will reopen.
Although details of how the crash occurred are not yet known, some sections of Germany's 12,845km autobahn system have no upper speed limit. However the fatality rates on German roads, including those stretches of the autobahn without speed limits, are lower than many similar motorway networks.
Earlier on Saturday a crash in Hunan, China left some 38 people dead. A vehicle carrying flammable liquid smashed into a passenger bus which then caught fire. Many of the passengers in the bus burnt to death.
According to the World Health Organisation, in 2010 – the last year for which full statistics are available – some 1.24 million people died on roads around the world.