Get Out review: Jordan Peele's fearless race-based thriller is a cleverly comical must-see
Girls star Allison Williams, Caleb Landry Jones and Catherine Keener also star alongside Daniel Kaluuya in the film.
NOTE: This article is a contribution and do not necessarily represent the views of IBTimes.
Jordan Peele makes his feature-length directorial debut with mystery Get Out, a darkly comical and disturbing film that combines hypnosis and horror to become a political poignant comment about race. Allison Williams, Catherine Keener and Black Mirror's Daniel Kaluuya star.
Uncomfortably tight close-ups, a jumpy score, a creepy opening scene and an inevitable twist have always been key ingredients when it comes to making a successful suspense thriller. When those cinematic techniques are combined with one heck of an original story, it's bound to be a surefire hit... and that's exactly what writer-director Jordan Peele has done with his latest work, Get Out.
It sees Daniel Kaluuya play Chris, a 26-year-old African American who has been dating his girlfriend Rose (Allison Williams) for five months, meaning they've reached the meet-the-parents point in their relationship. At first, Chris is cautious as to whether he'll be fully embraced by Missy (Catherine Keener) and Dean's (Bradley Whitford) white-dominated community but with some reassurance from Rose – her father would have voted for Obama a third time if he could have, promise – he agrees to visit her family's isolated estate one weekend.
Upon the loved-up pair's arrival, Missy and Dean seem like the ever-welcoming hosts, as they show Chris around their vast house, explaining where they got certain knick-knacks and showing off Rose's baby pictures. But there's something a little off about the duo... and it's not just because Dean keeps calling Chris "my man". Missy seems hellbent on getting their new guest in her professional hypnosis chair to rid him of his "disgusting" smoking habit while Rose's skittish brother Jeremy (Caleb Landry Jones) can't stop trying to get him in a "playful" headlock.
That's all before Chris even has a chance to meet Walter (Marcus Henderson) and Georgina (Betty Gabriel) too, the black live-in help who are more like lobotomised servants rather than personality-filled individuals. When they're aren't doing chores, they're scurrying about like mindless zombies; chopping wood, menacingly unplugging phone chargers and staring at their reflections in the mirror.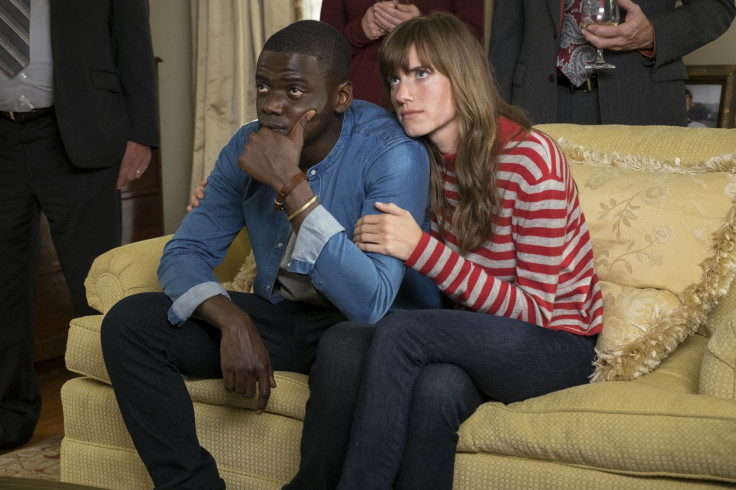 They also seem to dress like they're from a bygone era. It's weird and Chris knows it but he can't quite figure out what's going on, which means of course, neither can the viewer. And if their behaviour isn't unsettling enough, things take an even darker turn when the Armitage family's friends and neighbours descend upon the house for an annual lunch and disturbing truths slowly start to be revealed.
Cinemagoers have seen blatant racism in movies before. You only have to check out Oscar season each year to find such notions and attitudes both depicted and explored. But it seems fair to assume that you've never seen ignorance played out quite like this on the big-screen before.
With his fearless screenplay, Peele lands justifiable jabs using awkward yet believable situational backdrops, such as a white woman asking another whether "[sex] really is better" in front of her black boyfriend or bringing up Tiger Woods in conversation as some kind of peculiar ice-breaker. It will genuinely make you cringe and scoff (while also making you hope you've never accidentally said something as ridiculous in your own life).
The movie isn't afraid to tackle the taboos of white liberalism and privilege, nor does it shy away from challenging the idea of micro-aggressive racism masquerading as sympathy or cultural appreciation; "Black is coming back in fashion". You know, the people who congratulate themselves for being so tolerant and love to make a spectacle of it? It's almost impossible to discuss how much meaning lies in every single line and action in the script without revealing the whole story, but there's no denying that the screenplay is dripping with thought-provoking subtext.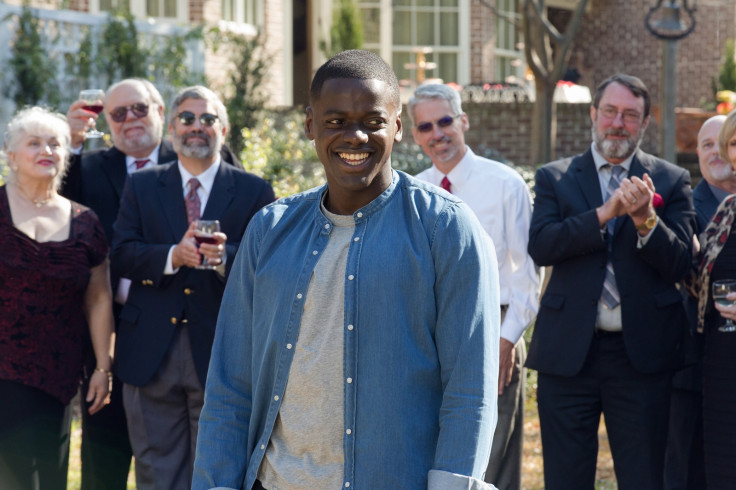 As the film veers towards its bloody and borderline silly end though, it becomes slightly less sharply satirical and more M Night Shyamalan-esque. It's evident from a certain point that Chris is going to have to kill if he's going to make it out of this white nightmare alive and as the action amps up, the integrity of the story falls a little by the wayside. But even in its madder moments, it manages to refreshingly turn trope-like tradition on its head, as a character who wouldn't usually make it to the halfway point lasts until the end credits.
Fortunately, Kaluuya offers up a determined, engaging performance that grounds the film's more out-there scenes. In fact, he's brilliant in the whole thing, nailing the script's comedy as easily as he sells its more emotional sequences as Chris delves into his tragic past. Keener, Whitford and Landry Jones are also great as the eerie Armitages. Only comedian LilRel Howery tiptoes the line between fully fleshed-out character and stereotypical comic relief but he's so marvellous as Chris's best friend Rod, you never really mind all that much.
All in all, Get Out is not only ingenious because it undoubtedly entertains while it makes some downright daring and poignant comments about a specific contingent of society. It's ingenious because it succeeds in presenting themes that all audience members can devour and relate to.
The importance of this being a black story should certainly not be overlooked – and luckily, it's almost impossible to do so – but nevertheless, it is sure to resonate with anyone who has ever felt the sting of prejudice, elevating Peele's debut film to even more insanely clever heights. It's as much about the black experience as it simultaneously transcends such narratives. This isn't some inside joke, it's a universal lesson learnt... even if that lesson is expertly disguised by a brilliantly bizarre and truly bonkers story set in the 'burbs.
© Copyright IBTimes 2023. All rights reserved.