Londoners desperate for a bottle of bubbly can now have it delivered to their door in under 10 minutes through the Gett taxi app.
A rival to ride-sharing company Uber, but which uses licensed black cabs, Gett is an iOS and Android app for hailing a taxi from your smartphone, but to stand out from its competition the company has partnered with drinks retailer Amathus and Veuve Clicquot champagne.
From 28 July, anyone using Gett in Shoreditch, Clerkenwell, the City, Knightsbridge, Chelsea, Belgravia and Kensington - hardly a surprising list - will be able to get a chilled 70cl yellow label bottle with two champagne flutes delivered by scooter within 10 minutes of placing their order. The service is available between 4pm and 10pm, seven days a week.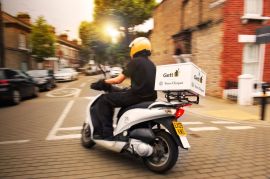 The scheme uses London's 'knowledge boys', licensed taxi drivers in the making who ride around the capital on scooters to learn every road before taking The Knowledge test. Gett says champagne delivery is just the first of several new business models.
Gett CEO Remo Gerber said: "We are delighted to launch our first new vertical...for the last five years, we've been moving customers around safely, and now 'Gett Clicquot' will use the same business model to bring this revolutionary new service to Londoners.
"This is the start of a wide new range of services to be offered through the Gett app - the consumer demand is enormous."
Gerber added that using Knowledge-learners to deliver goods will "totally transform how people consume essential products and services."
IBTimes UK can only dream of the day when Veuve Clicquot champagne is deemed an essential.
The service costs £50, and while that's a £5 mark-up on Amathus' price for customers who buy online and select next-day delivery, the bottle from Gett comes chilled and with two glasses.