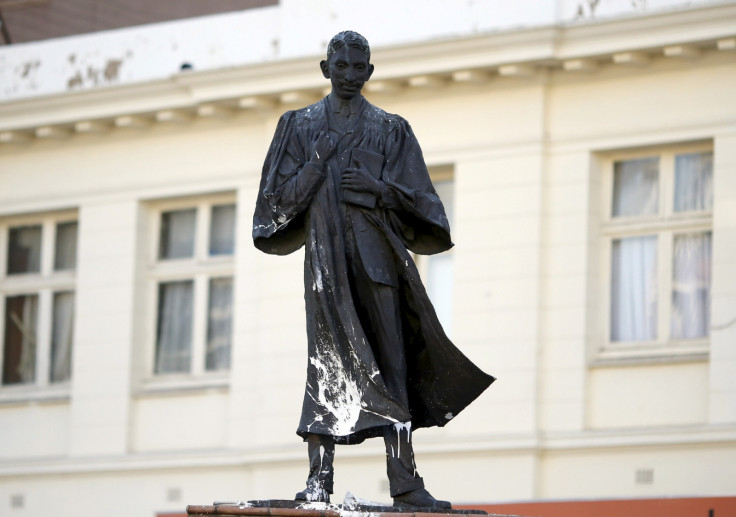 Mohandas Karamchand Gandhi or Mahatam Gandhi is recognised around the world as an advocate of nonviolence and freedom, but in Ghana a group of academics, students and artists are more concerned that the face of the Indian independence movement was "racist towards black Africans". Professors at the University of Ghana in capital Accra are campaigning to remove his statue from the campus claiming its presence is a "slap in the face".
In a petition, which has already earned more than 1,100 signatures, the authors cite a number of quotes from the Indian political figure, wherein he used derogatory terms to reference black Africans.
"A general belief seems to prevail in the Colony that the Indians are little better, if at all, than savages or the Natives of Africa. Even the children are taught to believe in that manner, with the result that the Indian is being dragged down to the position of a raw Kaffir," one citation from Gandhi's writings from 1894 states.
In multiple other articles, he also makes use of the pejorative terms and claimed that Indians were being degraded "to the level of the raw Kaffir".
The statue – the only one of a historical personality on campus – was erected on 14 June during a visit from India's President Pranab Mukherjee. Gandhi spent 21 years living and working in South Africa – from 1893 to 1914 – before deciding to move back to India and fight for independence from the British rule.
"We are of the view that if there should be statues on our campus, then, first and foremost, they should be of African heroes and heroines, who can serve as examples of who we are and what we have achieved as a people," the petition goes on to state, questioning the need to "uplift other people's heroes" and calling it "a slap in the face that undermines our struggles for autonomy, recognition and respect".
The campaigners also listed other instances around the world wherein "racist symbols" were removed from universities.
"It is better to stand up for our dignity than to kowtow to the wishes of a burgeoning Eurasian super-power. Some harm has already been done by erecting the statue. We have failed the generation that look up to us, namely our students," the online statement read.
Meanwhile, Gandhi's grand-daughter and South African MP Ela Gandhi told Al Jazeera that at the time, the term "kaffir" was not considered derogatory, but accepted that there was no justification to her grandfather's description of Africans as savage and inferior to Indians.
"If they do not want his statue, then by all means remove it. But I would suggest, very humbly, do not discard the notion of non-violence, of compassion, of Ubuntu, and of respect for fellow human beings, and for nature and the whole of the universe, simply because these were the ideals Gandhi stood for and was assassinated for," she said.