Giant pearl worth $100m that sat under Filipino fisherman's bed to go on display
The man found the precious 34kg 'good luck charm' in coastal waters off Palawan Island in 2006.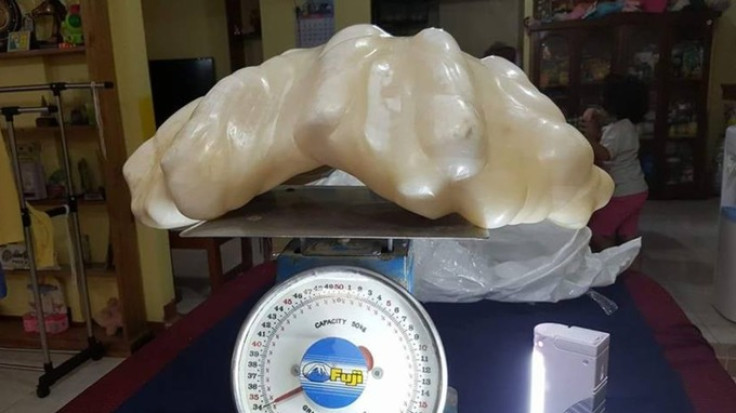 A record-breaking giant pearl, reportedly 1ft wide and 2.2 ft in length, has gone on display 10 years after it was first discovered off the coast of Palawan Island, Philippines in 2006. The £76m find, which experts believe could be the biggest natural giant clam pearl in the world, will be unveiled to the public, it was announced on Monday (22 August).
The enormous pearl was found by fisherman who cast down his anchor and it got wedged on a rock during a storm, said Tourism officer Aileen Cynthia Amurao. The find is thought to be five times larger than the previous record set by the Pearl of Allah, which was also found near Palawan Island in 1939.
"He noticed that it was lodged on a shell and swam down to pull up the anchor, and also brought the shell with him. This was a decade ago and he kept it at home.
"He didn't know how much it was worth and kept it tucked away at home as a simple good luck charm.
"We were amazed when he brought it to us. We now need help from gemologists to fully certify it. We're waiting for authentication from Gemologist Institute and other international authorities.
"But we believe Puerto Princesca is likely to earn another prestigious title and a record breaker for having the world's biggest natural giant pearl from a giant clam. We will keep this here in the Philippines and I hope it will bring more tourists to the city."
However, the tourism officer added that she strongly discouraged locals from disturbing or removing giant clams from the sea as it adversely affects the biodiversity of Palawan, according to ITV News.
The fisherman had no idea that the rare find was worth so much and left it under his bed for a decade. It was only when a fire at his house made him move out. He then handed it to a tourism officer in Puerto Princesca, who identified that it had originally come from a giant clam.
Giant clams can reach over four feet in length and very rarely produce pearls, making this discovery extremely rare. The previous record holder - also known as the Pearl of Lao Tze - is worth $35m and weighs 6.4kg.
© Copyright IBTimes 2023. All rights reserved.