A huge sinkhole at a fertiliser plant in Florida has reportedly contaminated the state's aquifer system with millions of gallons of radioactive water. The aquifer system acts as the main source of drinking water for millions of Florida residents and some water from the aquifer also creates springs that are used for recreational activities like snorkelling and swimming.
According to the phosphate fertiliser company, Mosaic, investigation into a sudden decline in the ground water level led them to the discovery of a massive 45ft wide sinkhole formation. The sinkhole was formed on 27 August at the company's New Wales facility in Polk County, it said.
Local media reports suggest that about 215 million gallons of radioactive water has leaked into the aquifer system. The radioactive waste contained phosphogypsum — a slightly radioactive by-product of fertiliser production.
The fertiliser company said on Friday (16 September), that it is using a ground water well, which measures 24in in diameter and is 800ft deep, to recover water that was lost as a result of the sinkhole formation. The company added that they have informed about the issue to the Florida Department of Environmental Protection (FDEP), the US Environmental Protection Agency (EPA), and Polk County officials.
"Based on the nature of this water loss and on what we've learned so far, a sinkhole formed under the west cell that we believe damaged the liner system at the base of the stack. The pond on top of the cell drained as a result, although some seepage continues. We estimate that the hole is approximately 45 feet in diameter and believe the sinkhole reaches the Floridan aquifer," the company said in a statement issued on Thursday (15 September).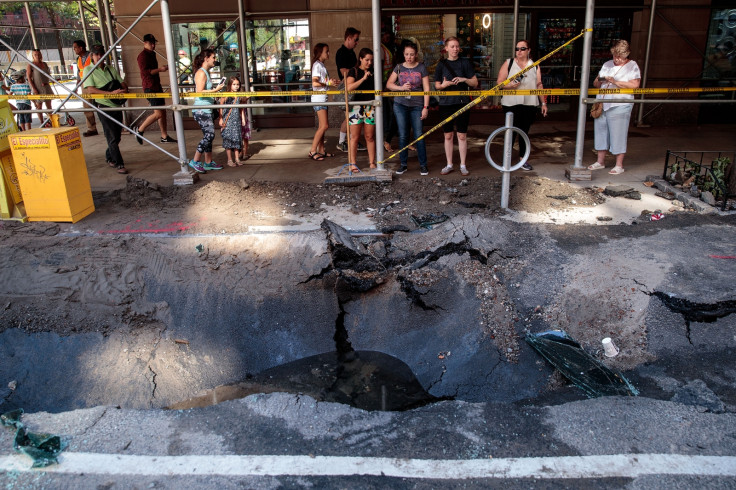 "We are working closely with regulators and have been reporting to FDEP daily. We have also called in top experts in the field to advise us on this issue. Enhanced water quality monitoring continues, and we are developing a comprehensive corrective action plan to address and rectify the cause of the water loss," the company added.
FDEP deputy press secretary Dee Ann Miller confirmed to ABC News on Friday that Mosaic is keeping the department informed about the developments taking place at the site. Miller added that they were undertaking frequent site visits "to make sure timely and appropriate response continues in order to safeguard public health and the environment".