They say time flies when you're having fun and that definitely seems to be the case for Gigi Hadid and Zayn Malik. The supermodel and former One Direction star are celebrating their two-year anniversary.
The 23-year-old beauty marked the special occasion by posting a sweet Boomerang video of the pair kissing at dinner on her Instagram Stories, along with the caption: "2 yrs w my favourite human."
The pair first started dating in November 2015 after they met at a Victoria's Secret after-show party in New York.
"We played it cool for like 10 minutes and then I was like, 'You're really cute'," she said during an appearance on The Ellen DeGeneres show.
"We connected like, really quickly, and just—we just started, like yeah, we had the kind of same sense of humour and [started] sharing videos and obviously Noah Ritter videos started coming up...."
The lovebirds are known to post many pictures of their precious moments together on Instagram. Hadid has 36.5 million followers on the social media platform while Malik has 24.9 million followers. During the two years of their relationship, the celebrity couple have provided many adorable moments for their fans.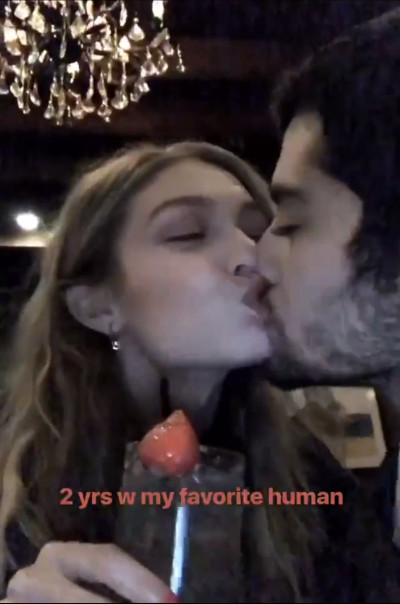 In March, Malik flew to Paris to surprise Hadid, who was busy at work during the Fashion Week. Glamour quoted Malik as saying: "She didn't know I was coming. I went up to the suite to knock on the door...But my number had changed to European on her phone, so it wasn't much of a surprise in the end. She played along with it, though."
He also revealed: "I call her Gee, she calls me Zee. There's some other nicknames too, but I'll keep those private."
Malik had previously revealed in a Sunday Times Style interview: "She's been living with me for the past year. I've not taken her to Bradford. No, not yet. She's met my family in London a few times, though."
"She's in the studio quite a lot. She likes to cook for me and stuff— when I'm here late, she'll come down and bring me food. She's cool," he had said to Billboard.
In January 2016, the supermodel starred in the music video of Pillowtalk, Malik's debut solo single. They also appeared on the cover of Vogue together as a couple on July 2017.
In August this year, former model and Hadid's mother, Yolanda had posted a photo of the pair on Instagram with the hashtag "#Family".
Before they met, Hadid was dating one of the Jonas brothers, Joe and Malik had broken off an engagement with Little Mix singer Perrie Edwards.